Hairpiece clips are an essential tool in securing hairpieces or wigs to your natural hair. They are typically made of metal or plastic, and their primary function is to ensure that your hairpiece stays in place. Knowing how to wear these clips correctly can significantly improve your wig-wearing experience. Here's what you need to keep in mind:
First and foremost, it's crucial to select the right clip size. Hairpiece clips come in different sizes designed for various hair volumes and head shapes. Therefore, when choosing a clip, consider the size of your head and the volume of your hair. If the clip is too small, it may not adequately secure your wig, and if it's too large, it could make your hair appear unnatural.
To wear a hairpiece clip effectively, start by positioning the wig on top of your head. Then use the clip to secure the wig with your real hair. This ensures that the wig remains firmly attached and gives you a more natural look.
Remember, wearing a wig should not only enhance your appearance but also be comfortable for you. Therefore, always take some time choosing the right accessories like hairpiece clips that fit perfectly with both your hairstyle and lifestyle.
By adhering to these tips and techniques, you can confidently flaunt any hairstyle without worrying about slipping or shifting wigs! Let these simple yet effective steps guide you towards mastering the art of wearing hairpiece clips securely and comfortably.
Secondly, when wearing hair clips, be careful not to pull or tug on your hair. Doing so can make your hair look unnatural and even cause scalp pain. Therefore, when applying the clip, it's important to gently press down on your hair, allowing the clip to naturally secure itself.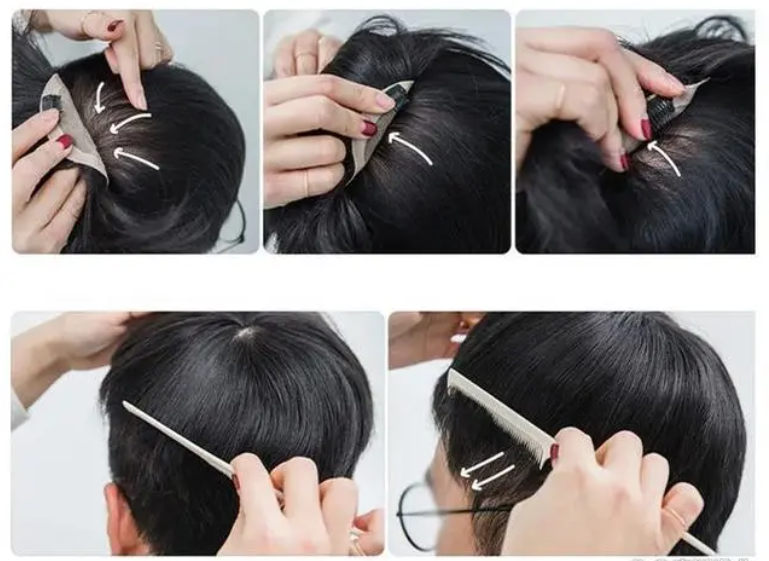 Clip-In Hair Extensions Wear
Furthermore, it's important to pay attention to the position of the clips. The clips should be placed at the top of the head, which can prevent excessive pressure on the head. At the same time, you should also consider the requirements of your hairstyle when positioning the clips. If you're wearing a side-parted wig, then the clip should be positioned on one side of your head.

Simulated Scalp with Freely Partable Seams
The Importance of Realistic Scalps and Proper Wig Clip Use
Ensuring a realistic representation of your hair is key when using wigs or hair accessories. One effective way to achieve this is by utilizing artificial scalps that allow for random parting, mimicking natural hair growth patterns. These artificial scalps not only offer a more genuine look, they also provide flexibility in styling options.
However, it's important to remember that the effectiveness of your wig clip is dependent on how well you prepare and manage your natural hair. Keeping your hair both clean and dry before applying the wig clip can significantly improve its grip and overall performance. Oily or damp hair can interfere with the clip's hold, causing it to slip off or move from its designated spot.
Moreover, while adjusting to wearing wigs or other hair accessories, be mindful of certain movements that could disrupt their placement. Excessive head shaking or frequently bending down may cause the wig to shift in an unnatural manner.
In conclusion, achieving a realistic appearance with wigs and other hair accessories isn't difficult if you take the time to properly use and maintain them. By following these simple steps - opting for artificial scalps that allow for random parting, ensuring clean and dry natural hair before application, and avoiding disruptive movements - you will not only optimize your wig wearing experience but also enhance your overall look.
Remember - the right care and handling can make all the difference in ensuring your wigs look as real as possible!