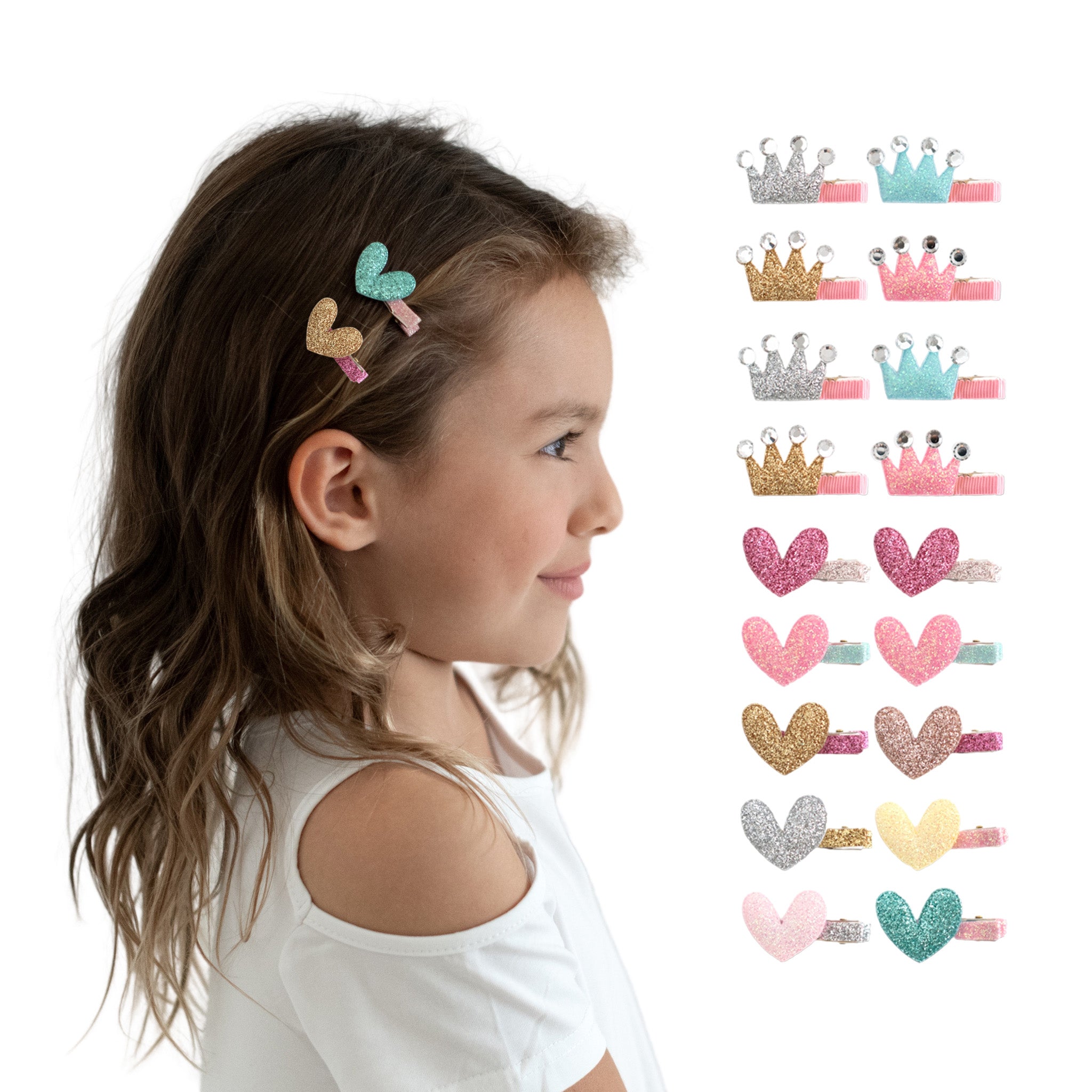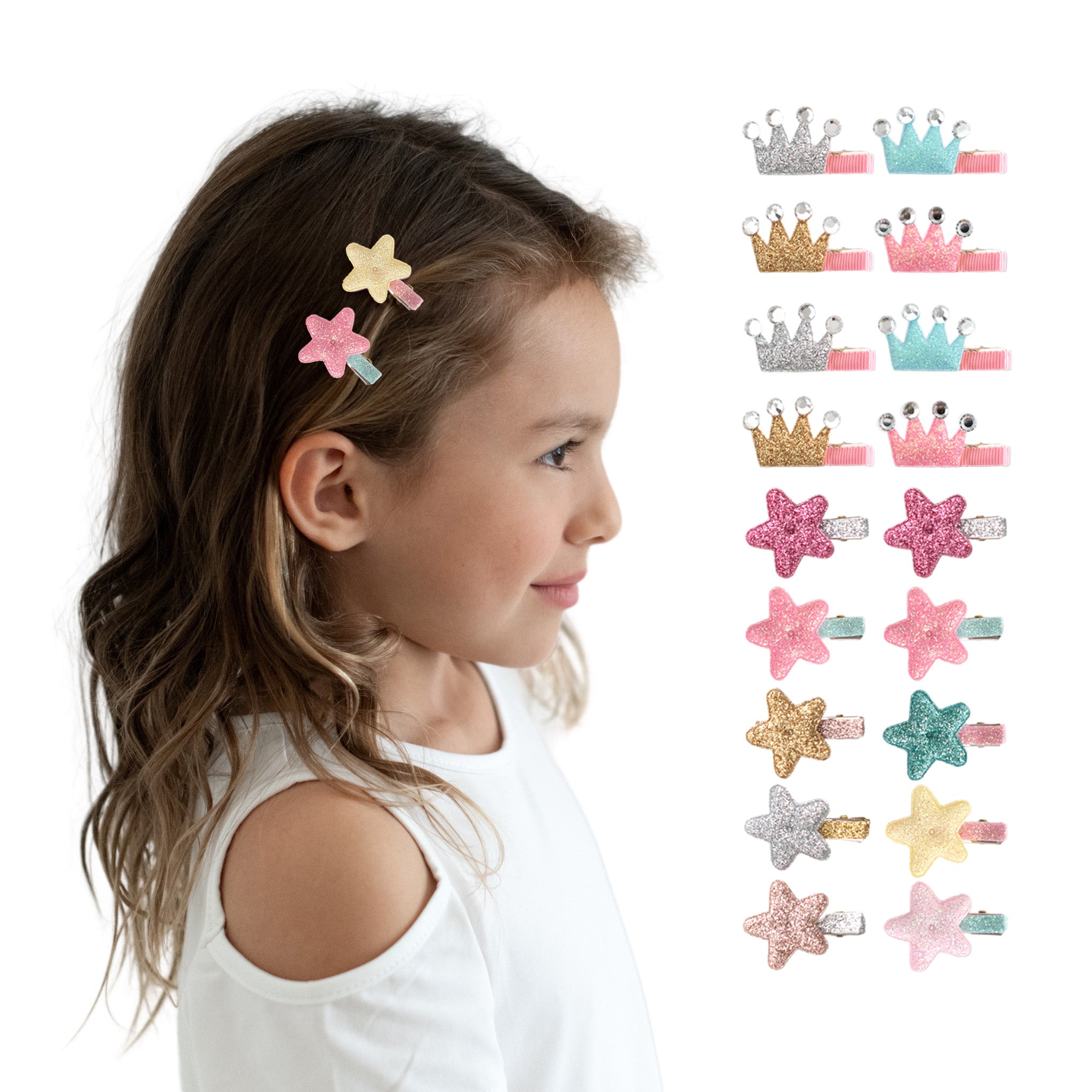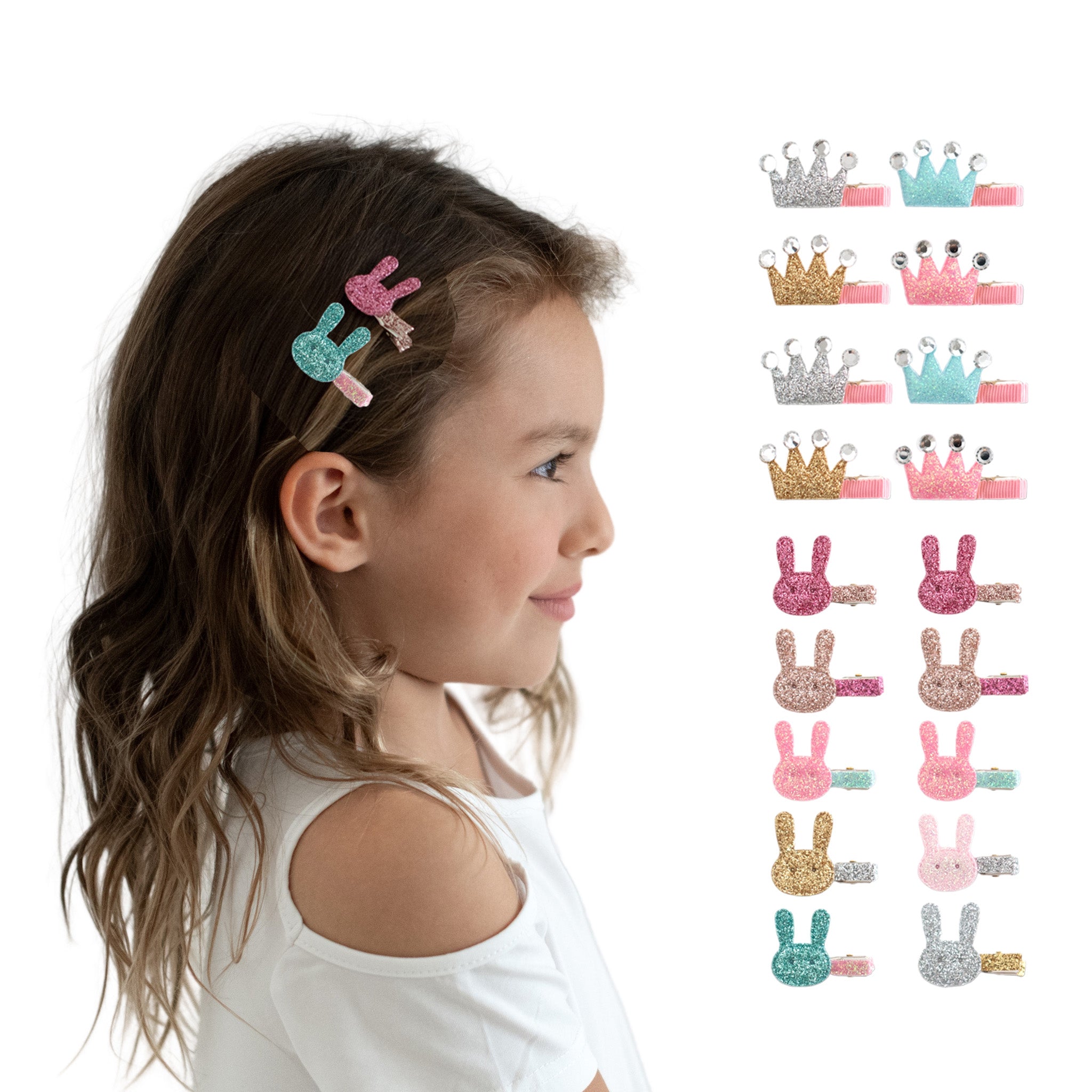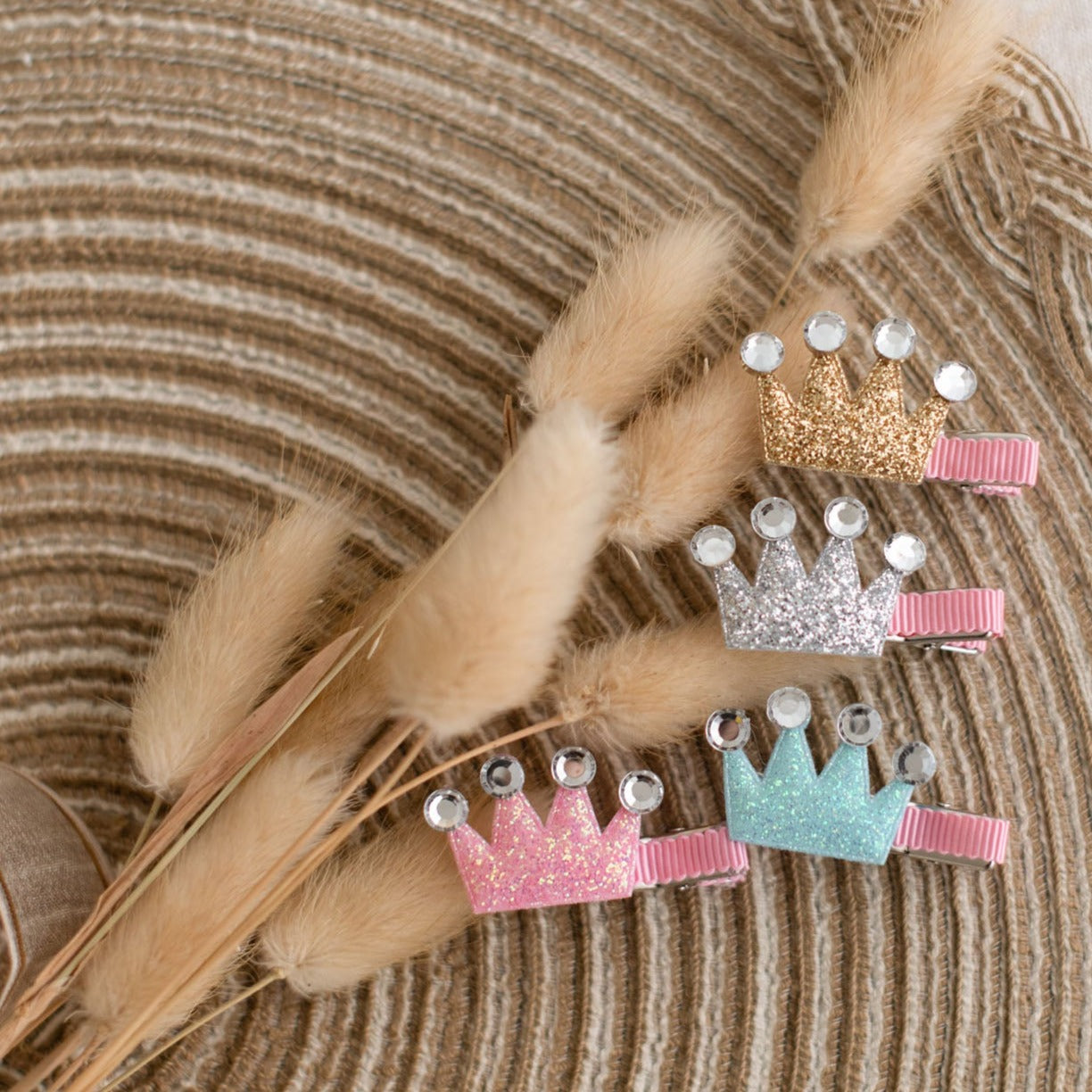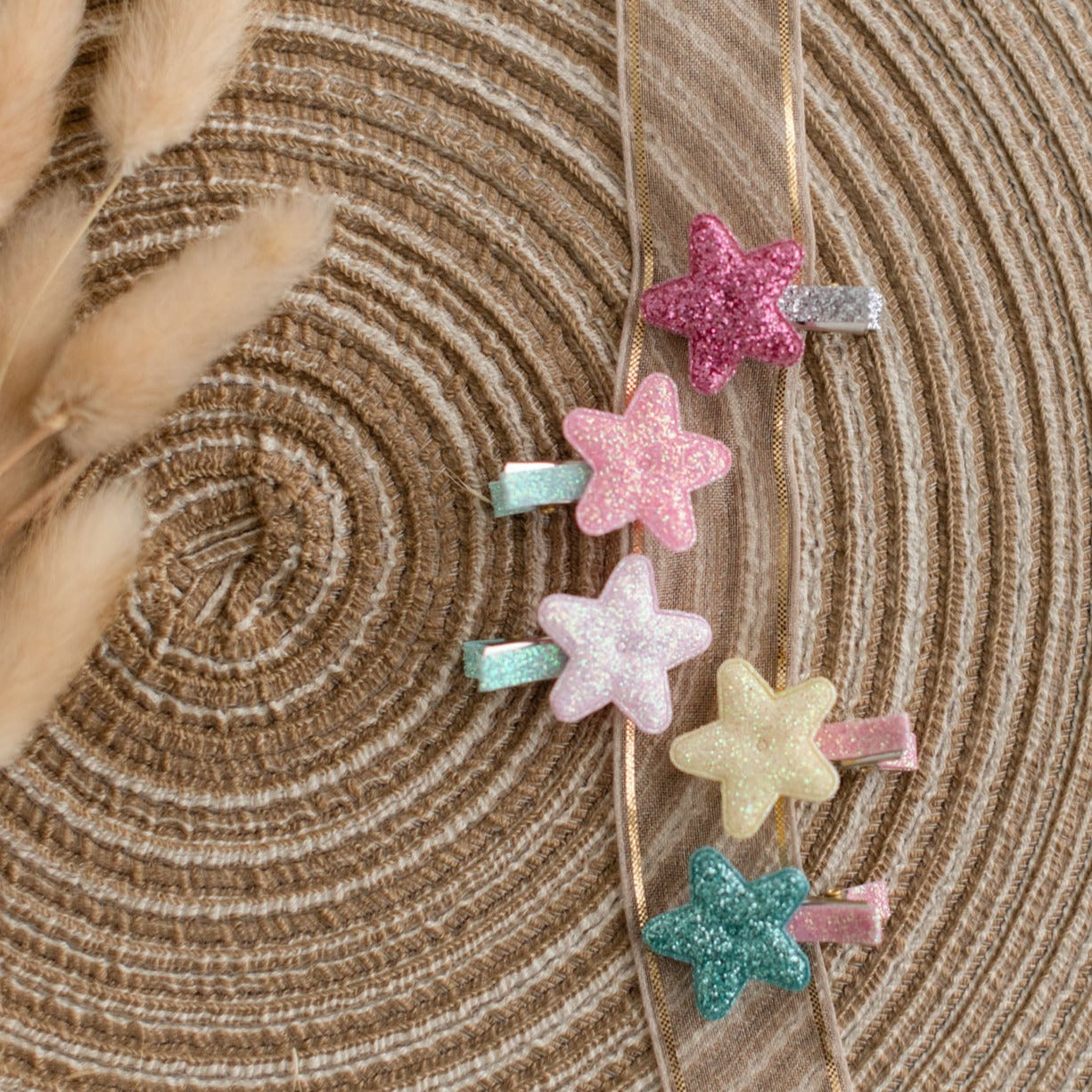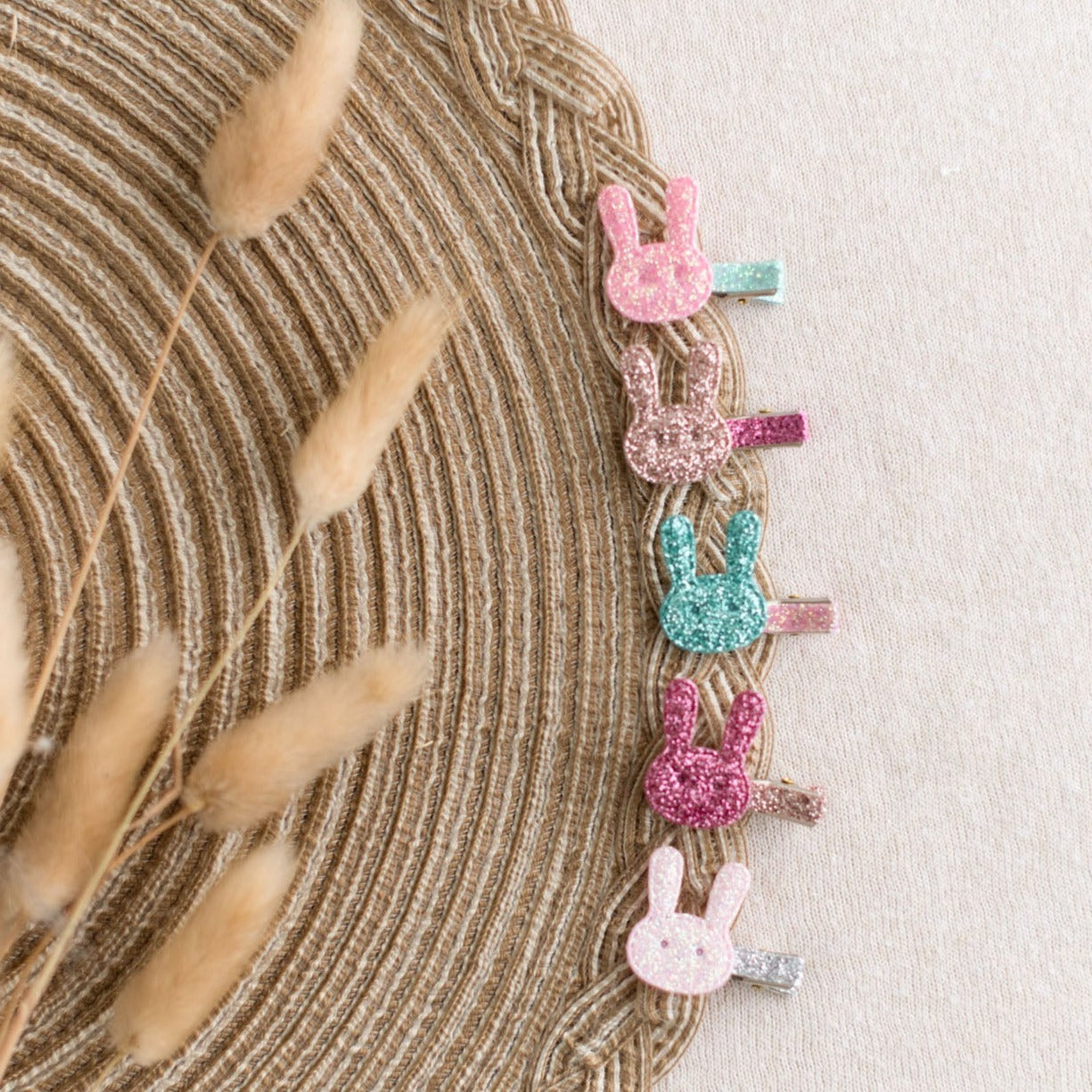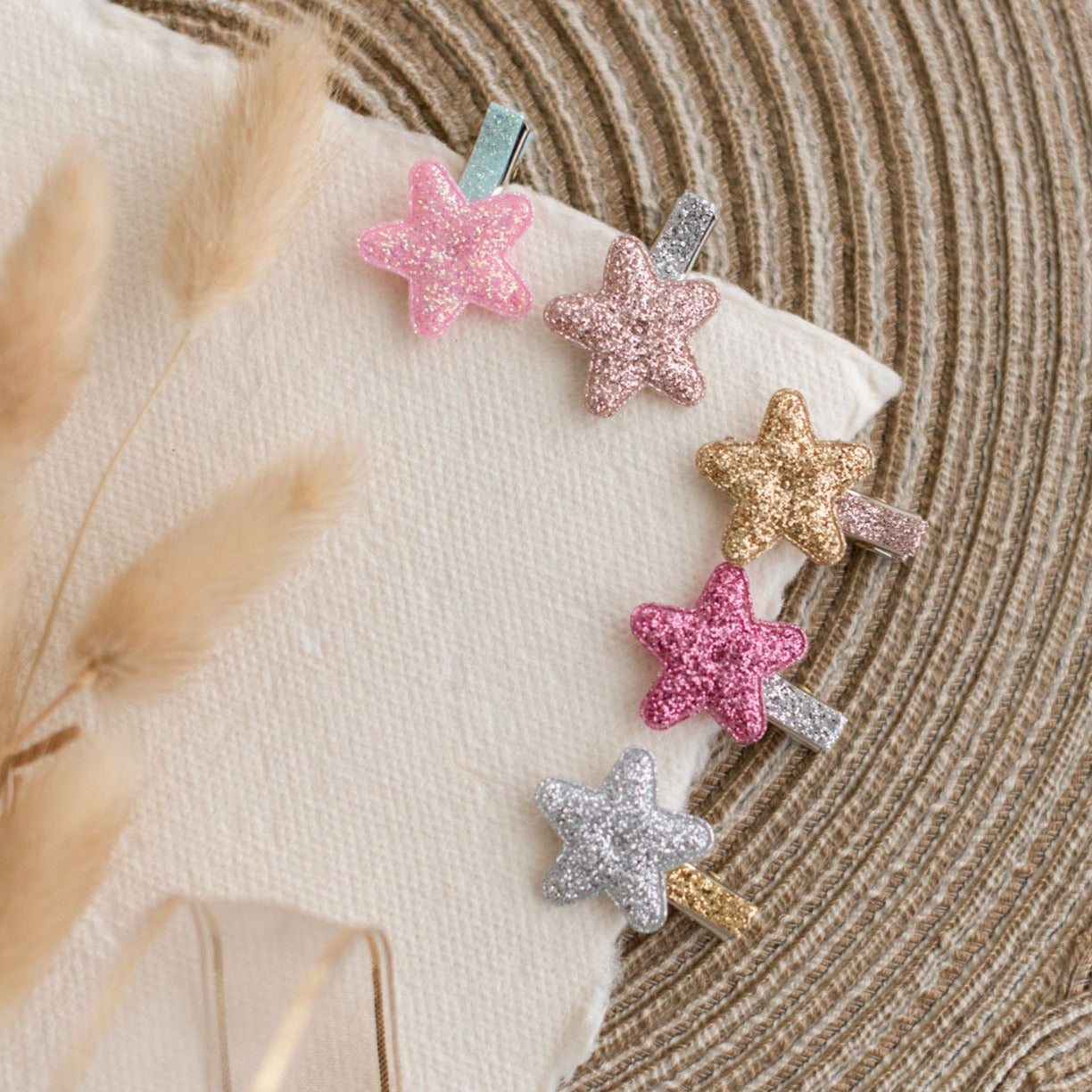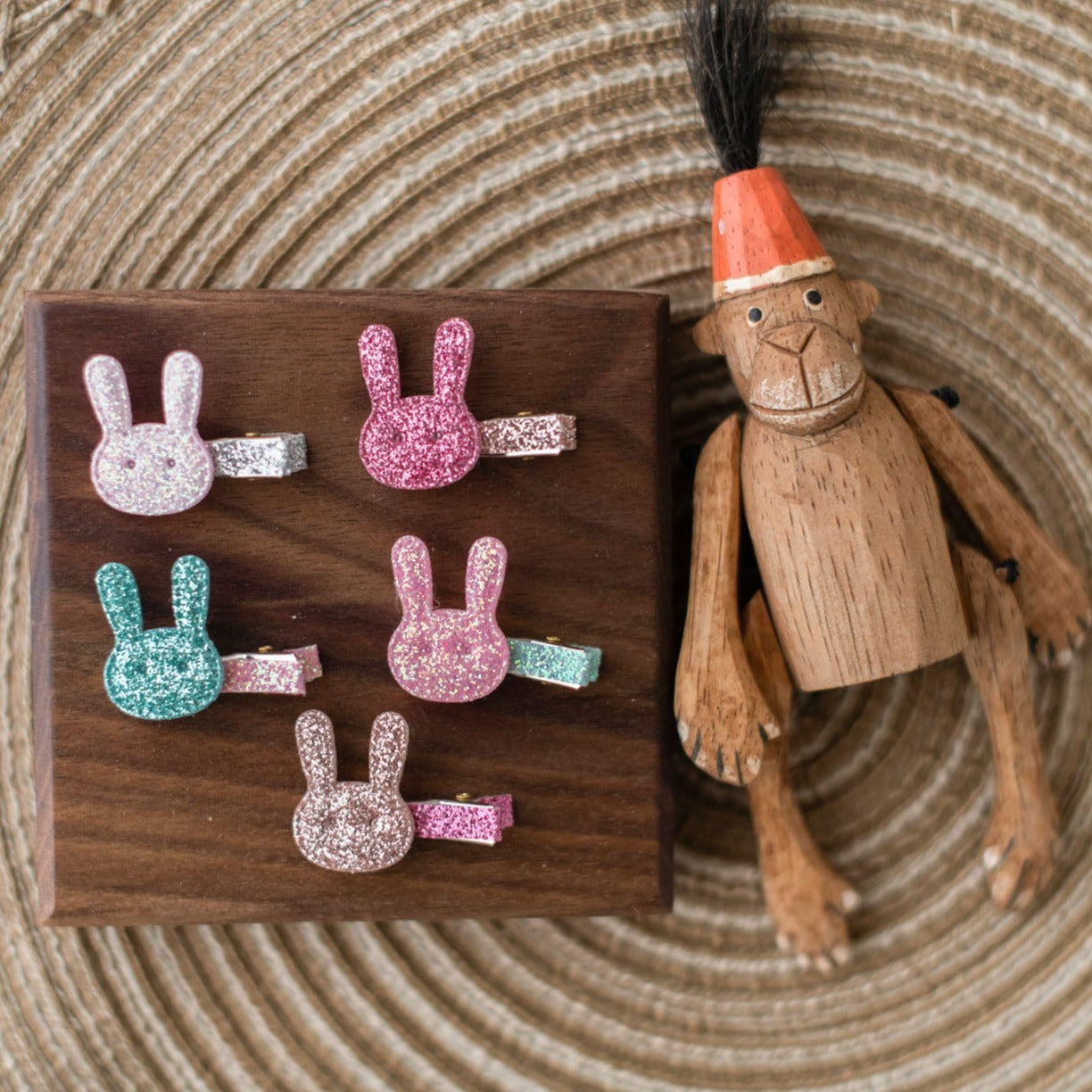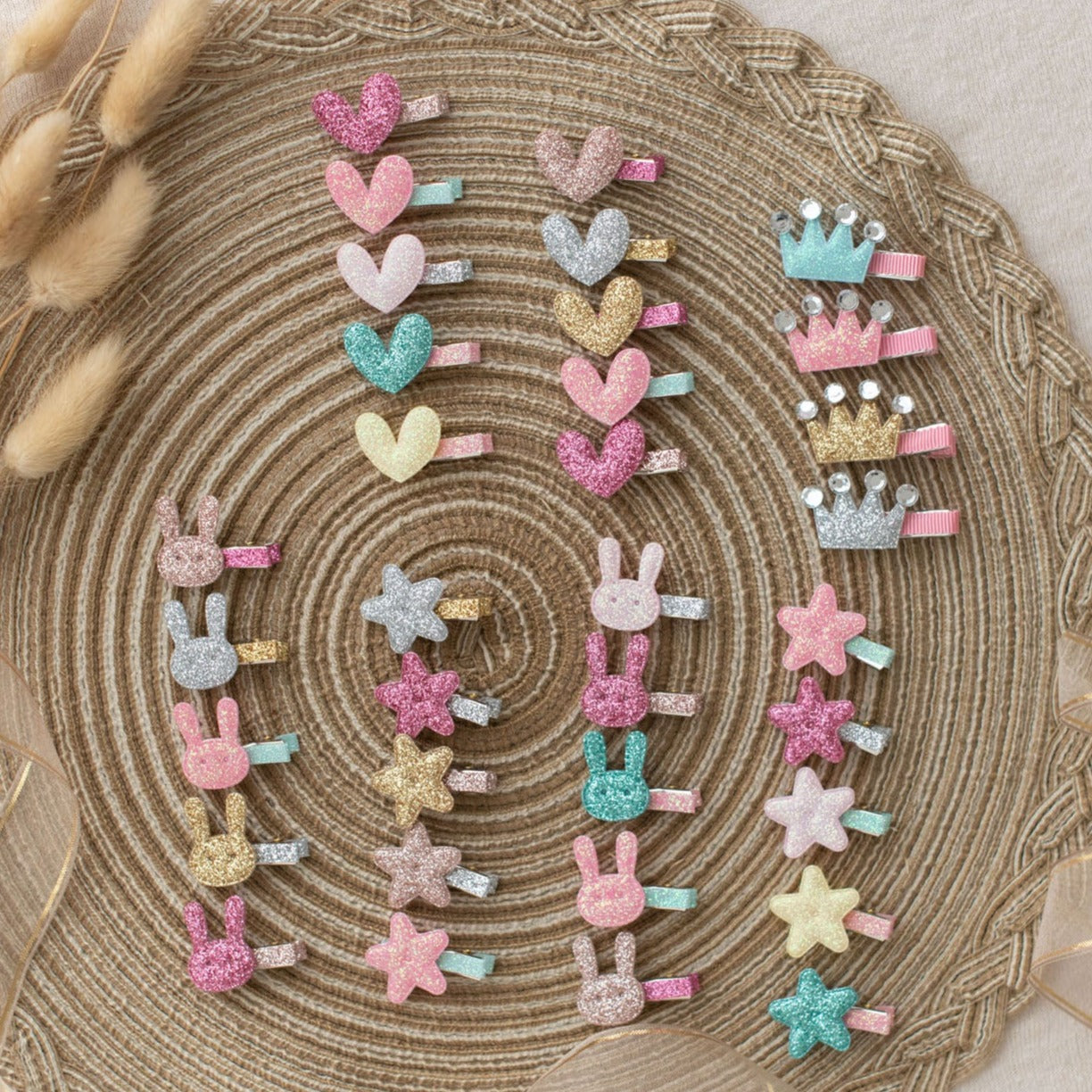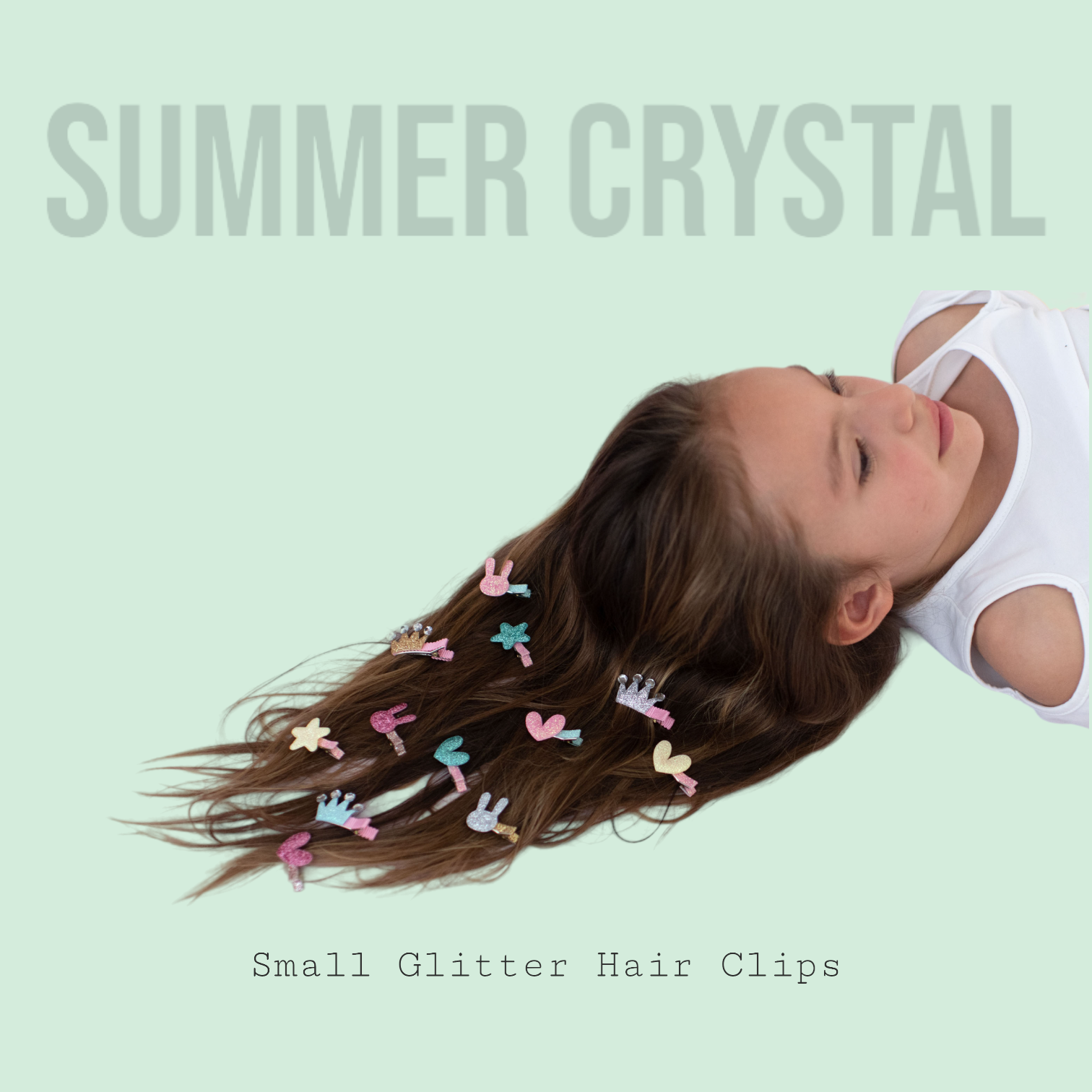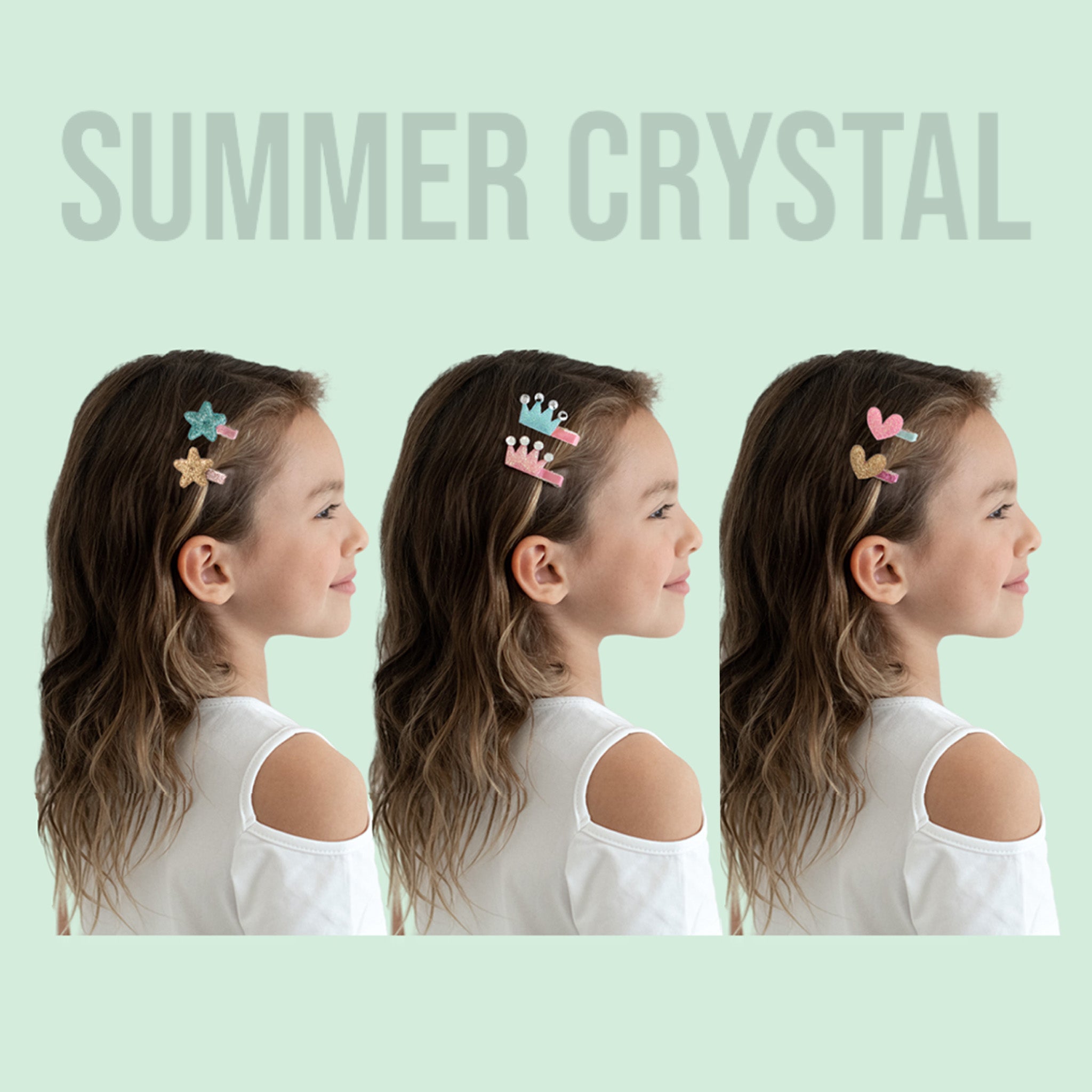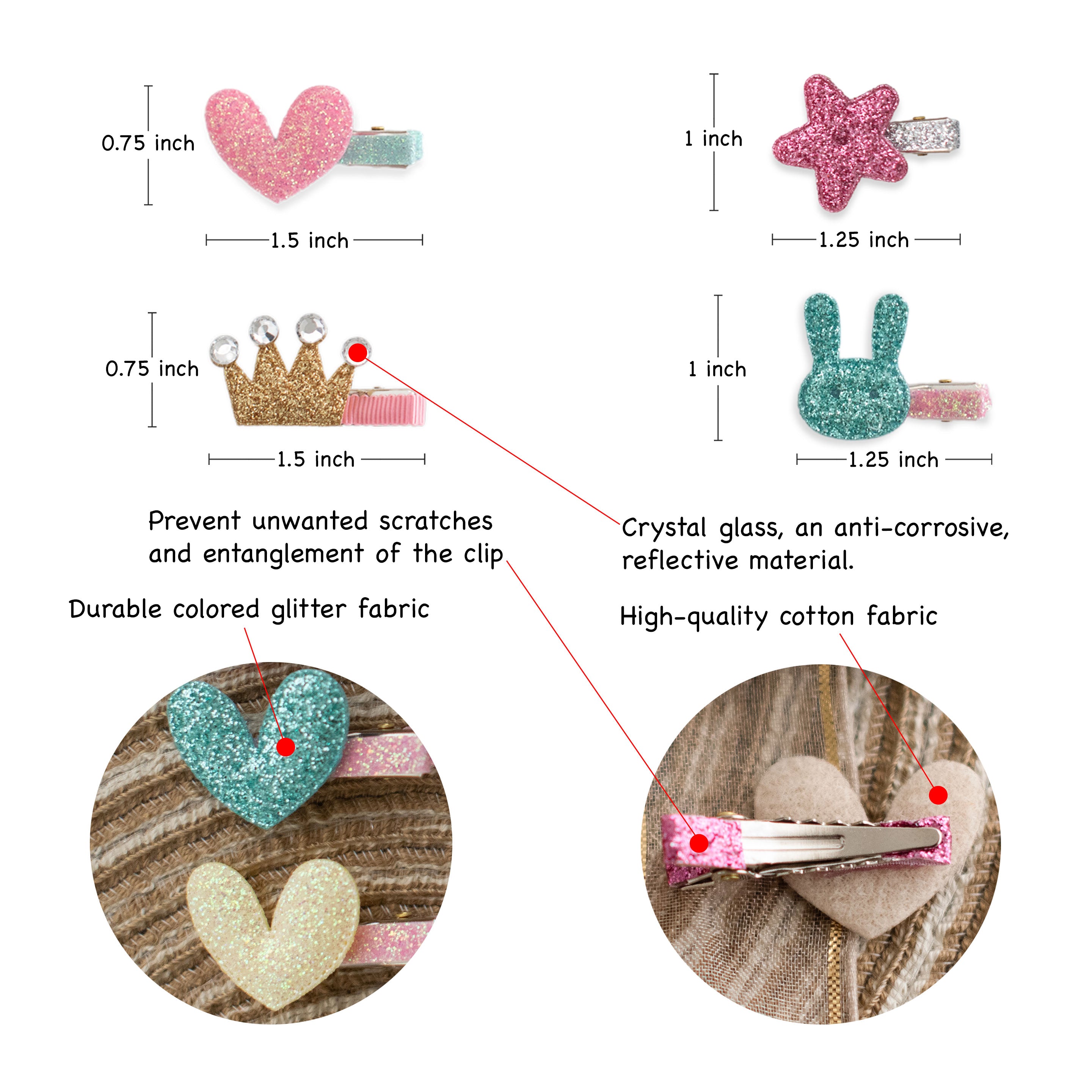 Summer Crystal Small Glitter Hair Clips - Pack of 18
---
Share
Elevate your little one's style with these adorable baby and children's hair clips, designed to capture childhood's sweet and playful essence with their vibrant colors and dazzling glitter accents. Each hair clip features a soft glitter front fabric delicately shaped into charming stars, bunnies, hearts, or crowns. When the sun's rays touch them, these clips come to life with a captivating sparkle, guaranteed to turn heads wherever your child goes.
Whether you use them as bang hair clips or side clips, our baby clips with side fringe attachments offer simplicity and ease of wear. They are suitable for all hair types, ensuring versatility for various occasions. The meticulous attention to detail in the design of these hair clips adds a touch of elegance and charm to your little one's look, making them the perfect accessory for any special event or everyday wear. These enchanting hair clips that perfectly blend style and comfort make your child shine bright.

Perfect for Gifting: Elevate your gift-giving with our exquisite collection of small hair clips. Each style comes in an individual package, adding an extra layer of charm and making it an ideal choice for thoughtful presents on any occasion.

Crafted with care, the front material of this hair clip is made from resilient colored glitter fabric, ensuring long-lasting beauty and durability. The crown's exquisite adornments feature artificial rhinestones meticulously crafted from crystal glass. These rhinestones provide a captivating sparkle, and their anti-corrosive properties ensure they maintain their brilliance over time. Their reflective nature adds an extra dimension of elegance to this exceptional hair accessory.

Our hair clip prioritizes your comfort and safety. Its inner lining features top-notch cotton fabric, providing a gentle shield for sensitive scalps. This fabric is not only color-lasting but also highly breathable. Furthermore, we've taken extra measures to ensure your hair remains tangle-free and your scalp stays scratch-free by wrapping the front and pinch sections with soft cotton ribbon.

Our small alligator clip is engineered for lasting performance. Crafted from a blend of metals, it combines durability with impressive rust resistance. These clips excel at securely holding hair in place for extended periods, ensuring a firm grip without any slipping.
Suitable for girls aged six months and above with both long and short hair. It is ideal for various occasions, including birthdays, holidays, parties, cosplay events, Easter, Halloween, and daily wear. This versatile accessory also makes for a thoughtful gift across multiple occasions.
Nice Clip
Good quality. Good for the cost!
Beautiful!
The hair clips are very cute and sturdy with good quality. Thank you
Cute
Many different styles and one is cuter than the other. They are also strong and it has not come apart.
Very cute! I would recommend
Love it!
My girl totally love these hair clips...