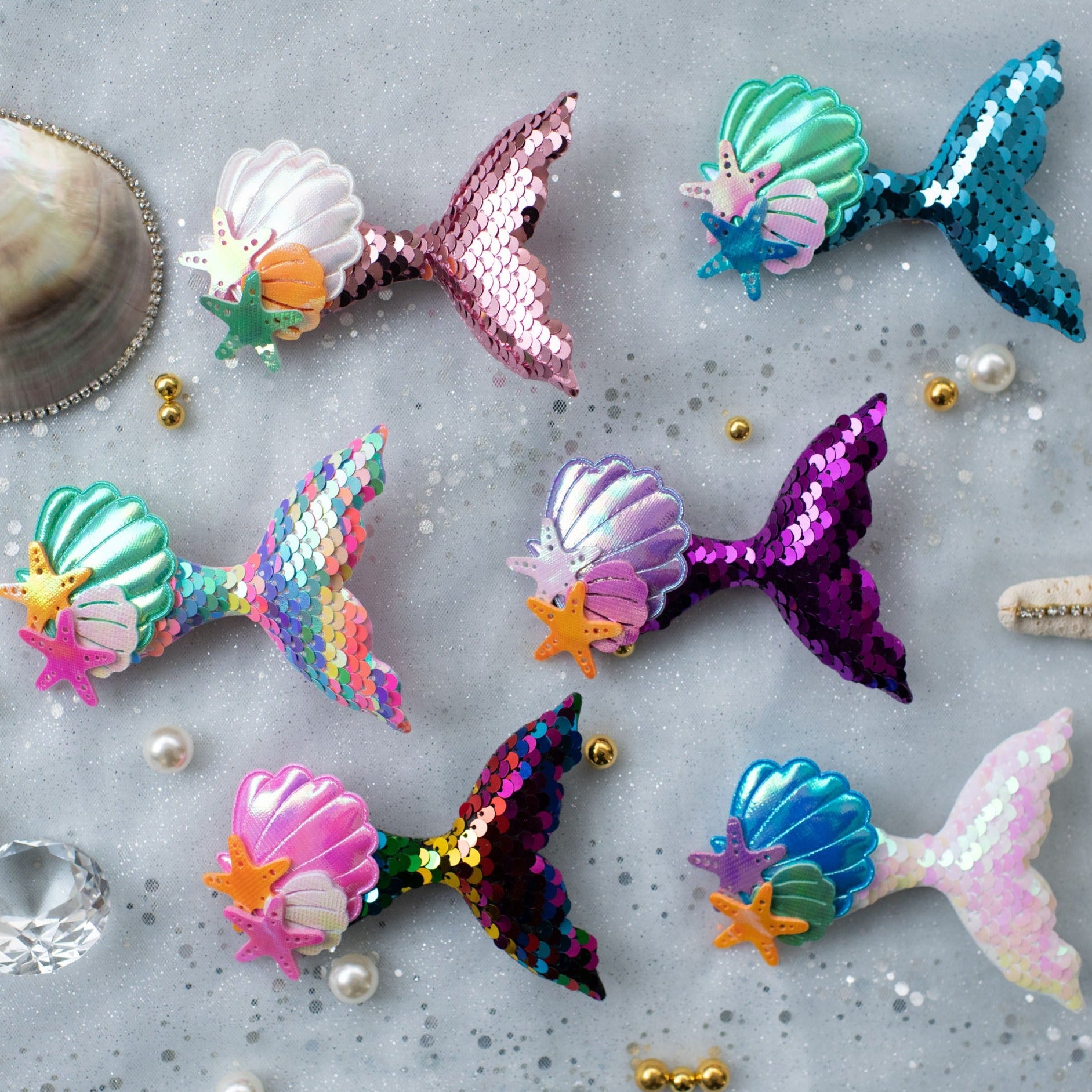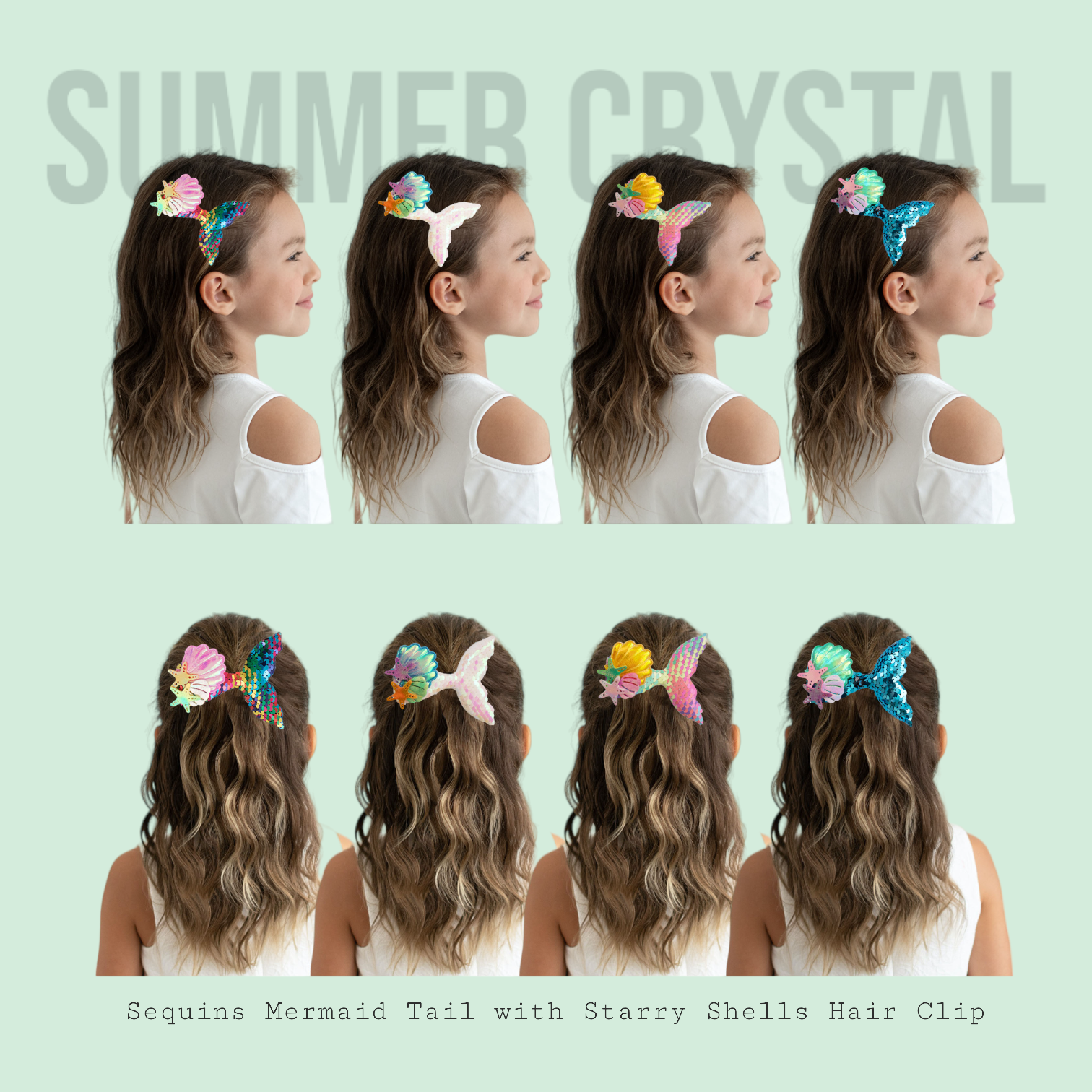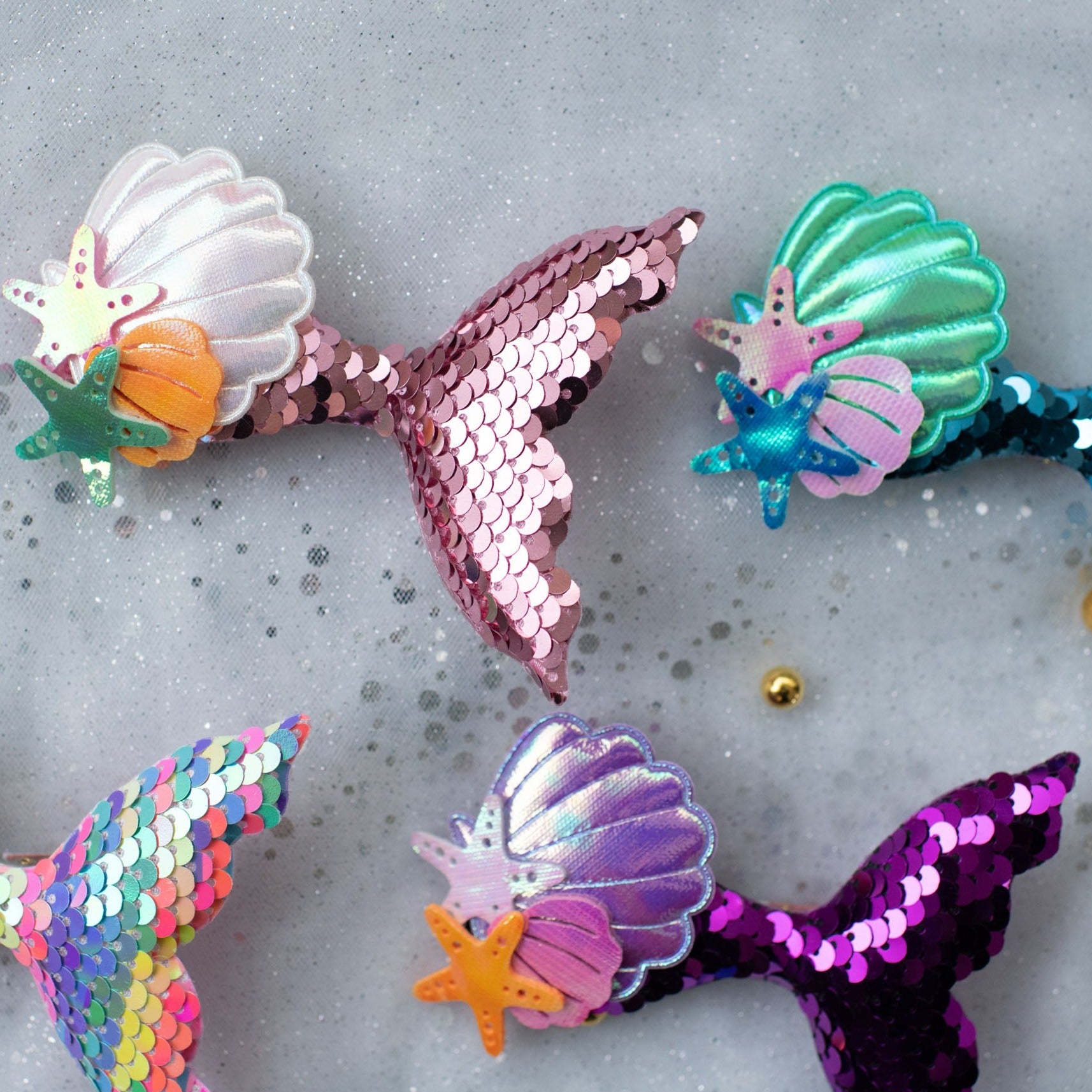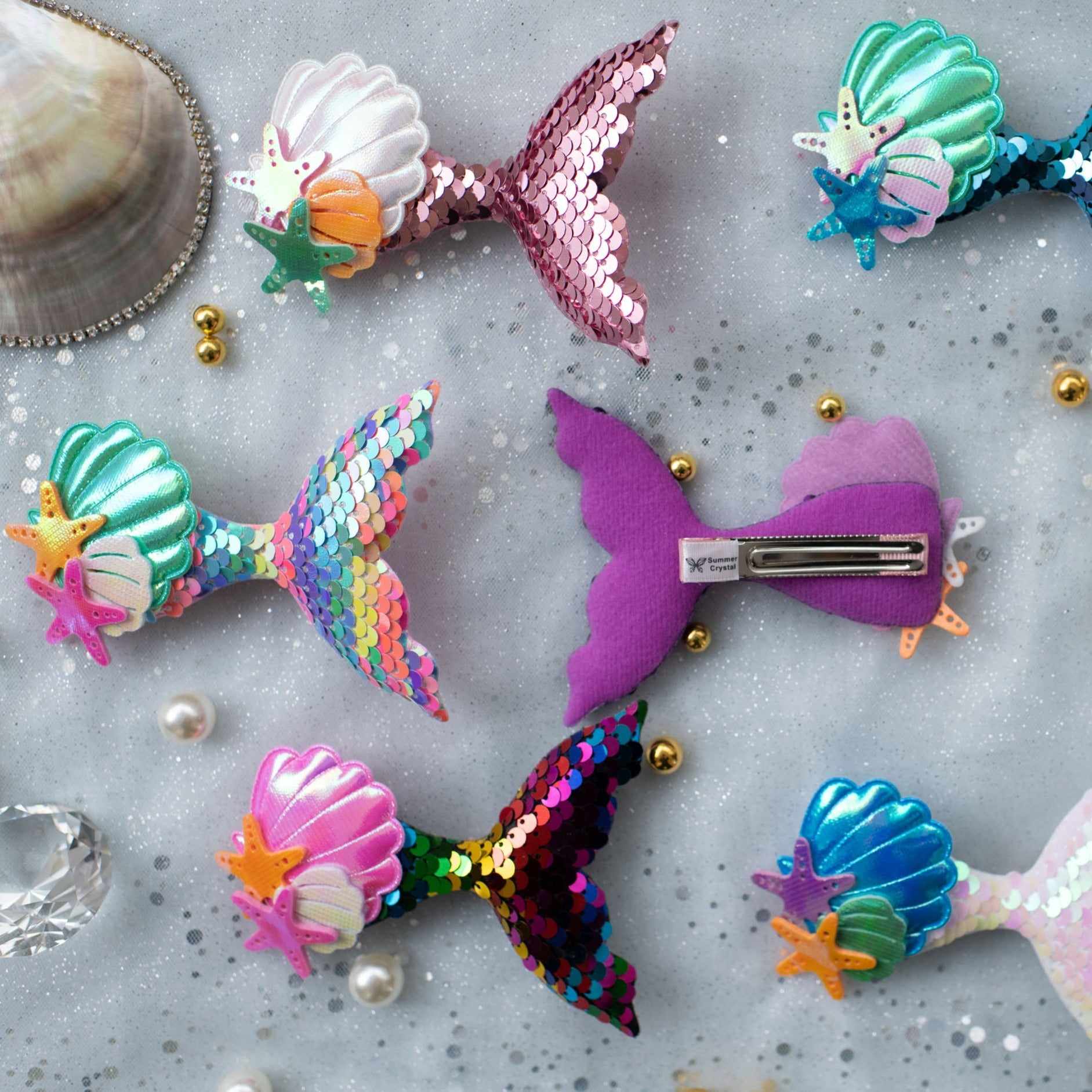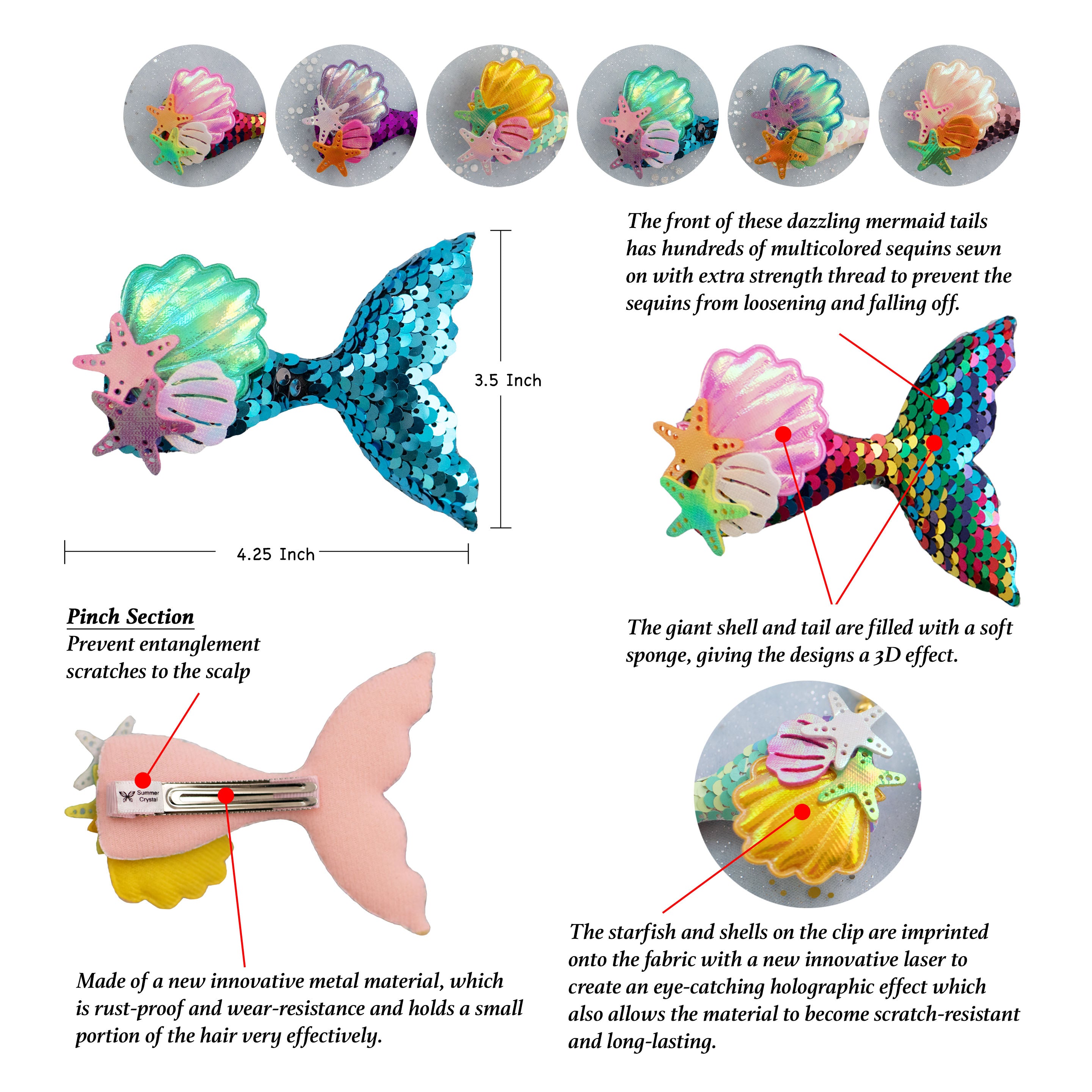 Summer Crystal Sequins Mermaid Tail with Starry Shells Alligator Hair Clip 4.25 x 3.5 Inch
---
Share
This gorgeous sequined glitter mermaid oceanic clip features small decorative shells and starfish. The front of these tails is covered in colorful sequins that glisten magically in the sunlight, just like the ocean, and highlights children's bright and bubbly personalities. This clip can be worn with all types of hairstyles; from a simple ponytail to more intricate hairstyles like braids, these clips will elevate your hairstyle to the next step!

The front of these dazzling mermaid tails has hundreds of multicolored sequins sewn on with extra strength thread to prevent the sequins from loosening and falling off. The starfish and shells on the clip are imprinted onto the fabric with a new innovative laser to create an eye-catching holographic effect which also allows the material to become scratch-resistant and long-lasting.

The giant shell and tail are filled with a soft sponge, giving the designs a 3D effect. The back of the clip is lined with a soft cotton fabric to prevent unwanted scratches and provide additional comfort.

The alligator clip is made of a new innovative metal material, which is rust-proof and wear-resistance and holds a small portion of the hair very effectively.
Suitable for girls aged three and above, as well as women with both long and short hair. Ideal for a wide range of occasions including birthdays, holidays, parties, cosplay events, Easter, Halloween, daily wear, and more. This versatile accessory also makes for a thoughtful gift across multiple occasions.
Nice clips.
Very cute for going to the beach. Do not rely on just the clip to hold the hair, they are definitely just for looks.
Super cute!
I got these for my 4 year old daughter and we both LOVE them!
They are such cute hair bows. They are bigger than I expected, I thought they were going to be mini but they are the size of a normal standard hair bow. The clips are a bit small to hold hair back independently so these are better suited for accessorizing a hair style rather than keeping hair in place. That's perfectly fine with me as my daughter loves to use hair bows to style her ponytails.
They are well made and nice quality. I find them to be a value for the price (about $7 each bow) as I would pay just as much for a standard plain bow.
Cute Novelty Hair Accessories
These are cute for little girls. The girl I got them for loves mermaids and was so excited to get these. They're shiny and sparkly!
CUTE!
Super cute little mermaid tail hair clips. My kiddos will absolutely love them
Well made clips
These mermaid tail clips are actually made nicely, and they hold a good portion of hair. I found that with my child's fine hair, they worked better if I made a little twist first.
The metal clips have serrated edges, but none are sharp.
The mermaid tail is lightly padded. The sequins do flip to a silver color. The seashells are metallic. The backs of the tails are a matching felt. All the details are glued together, and then onto the metal clips securely.