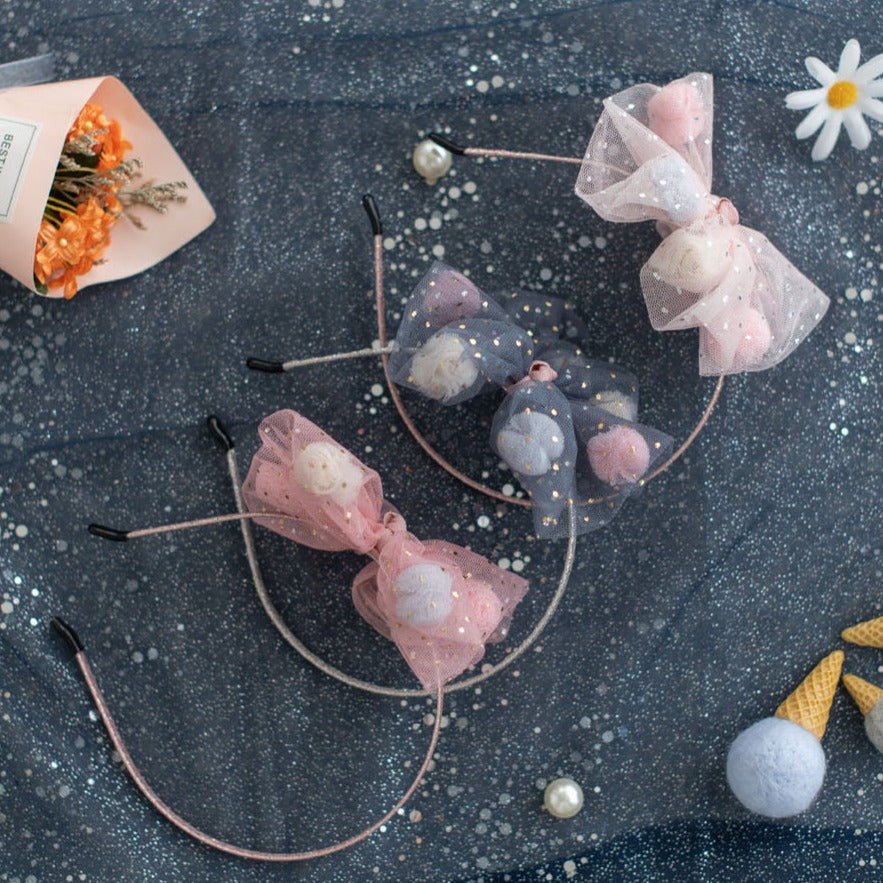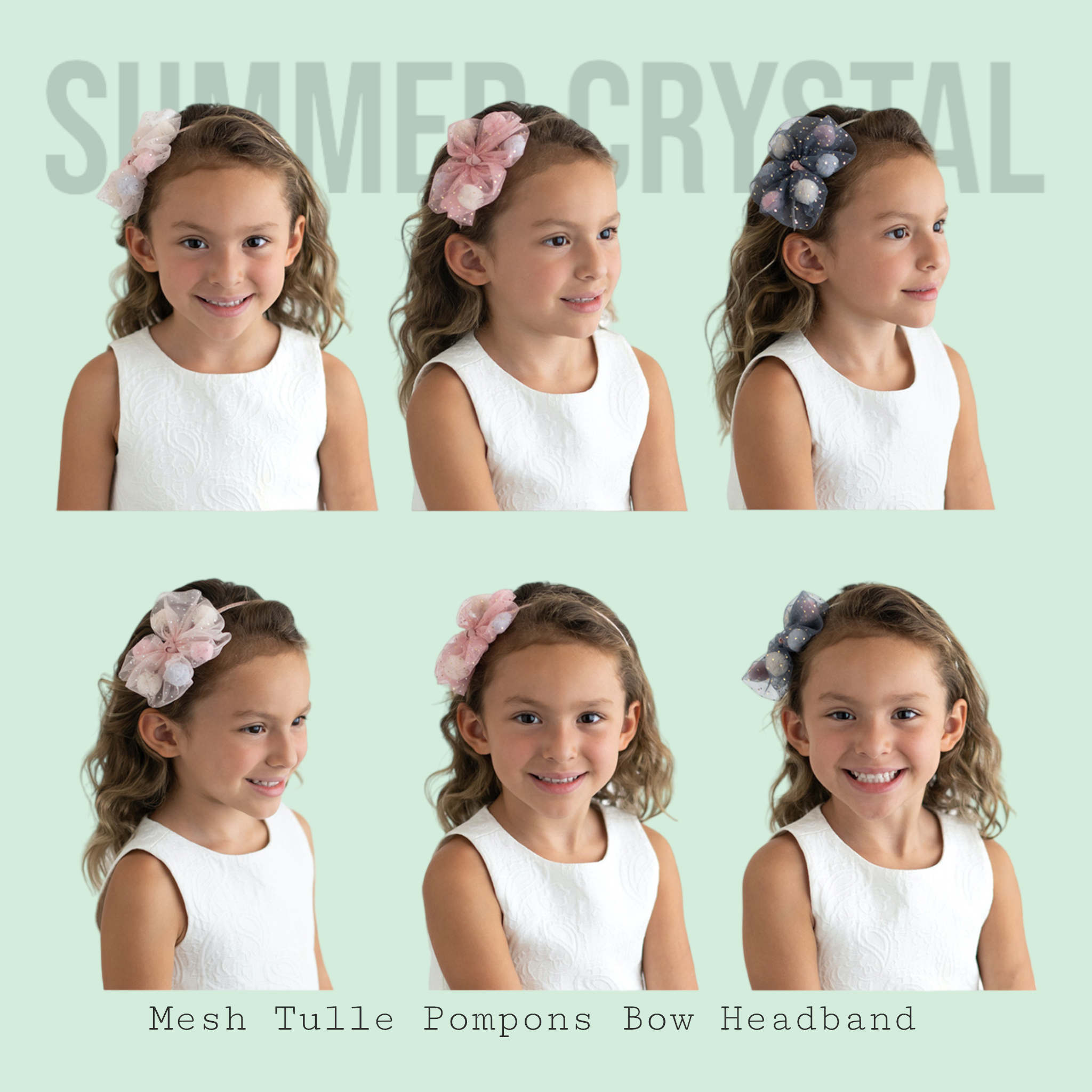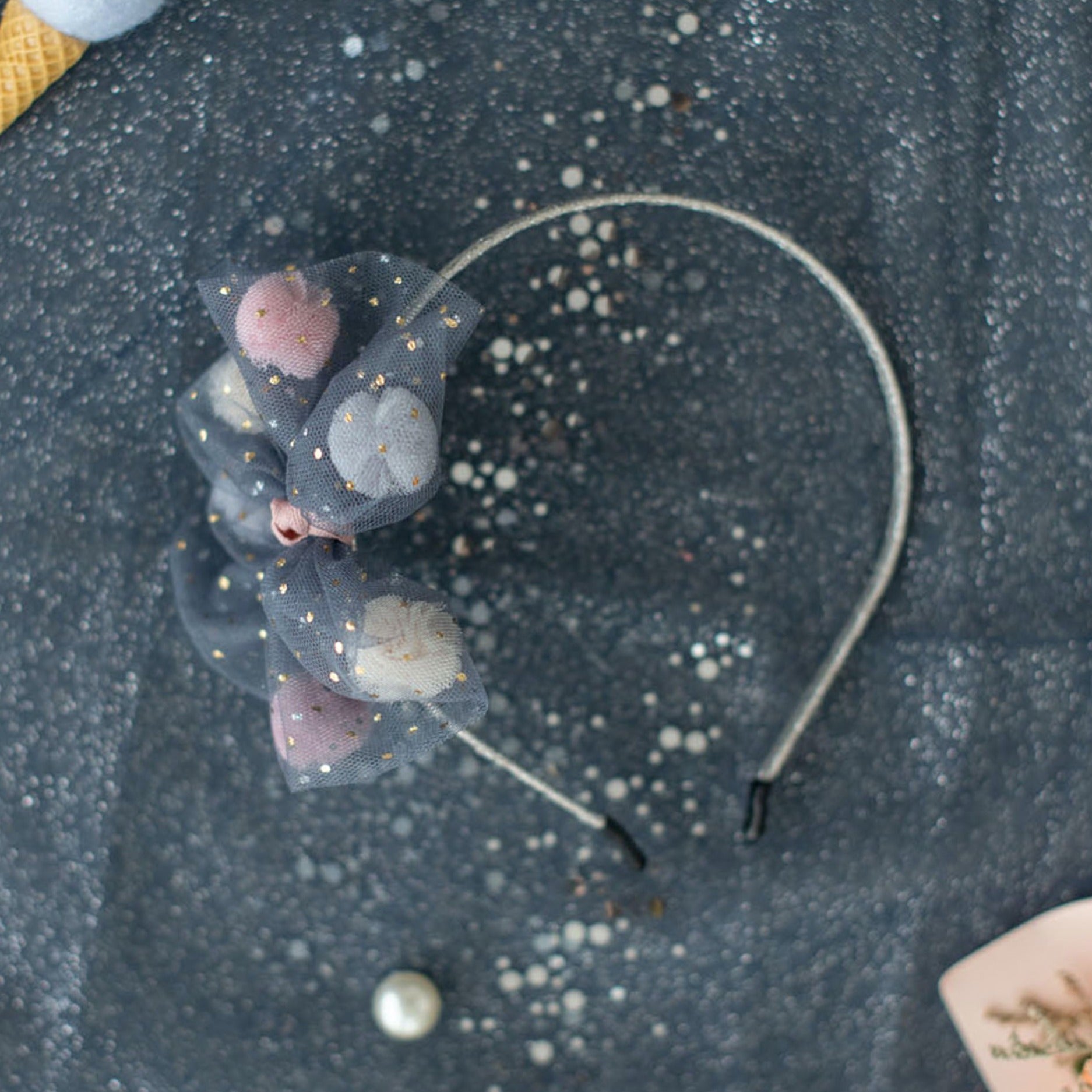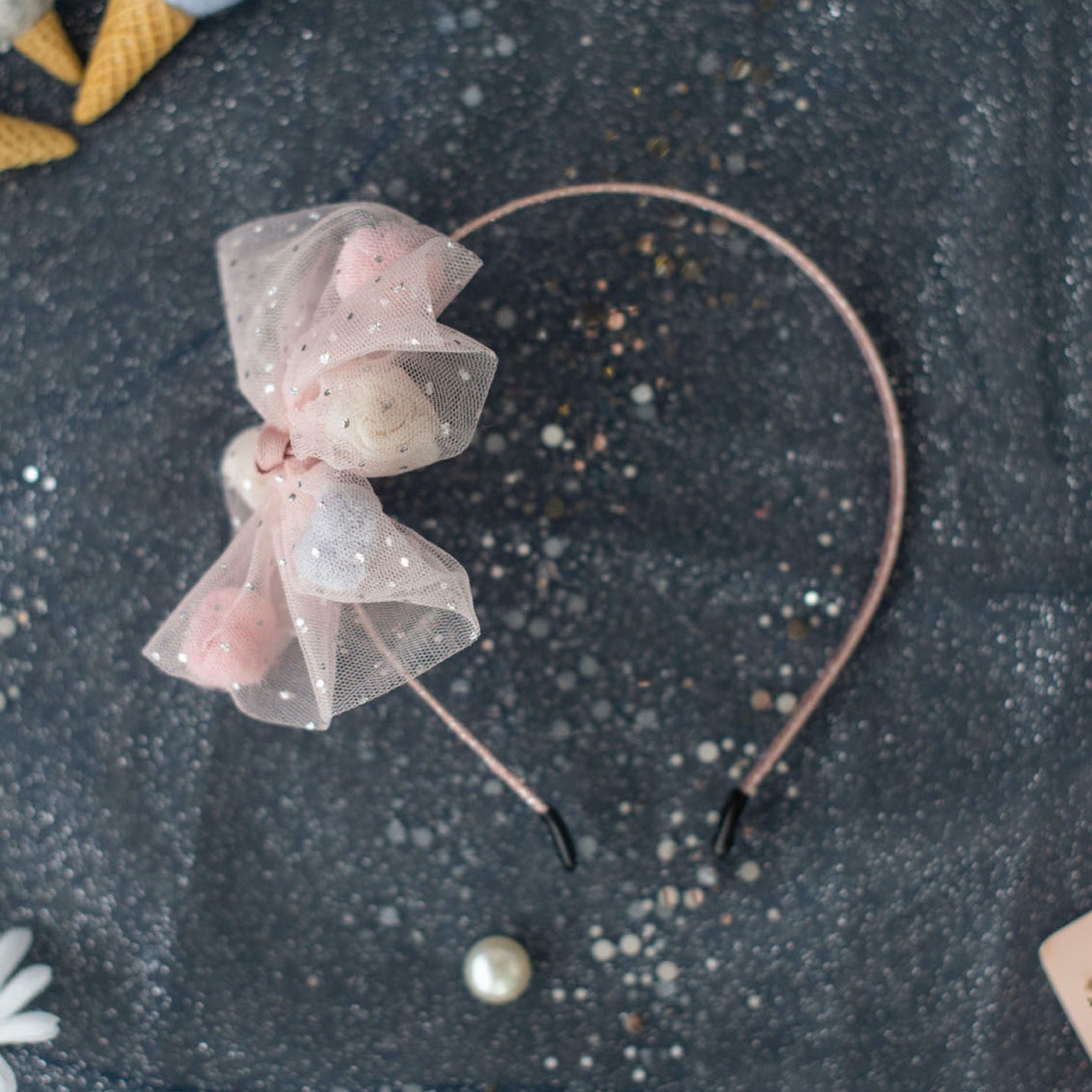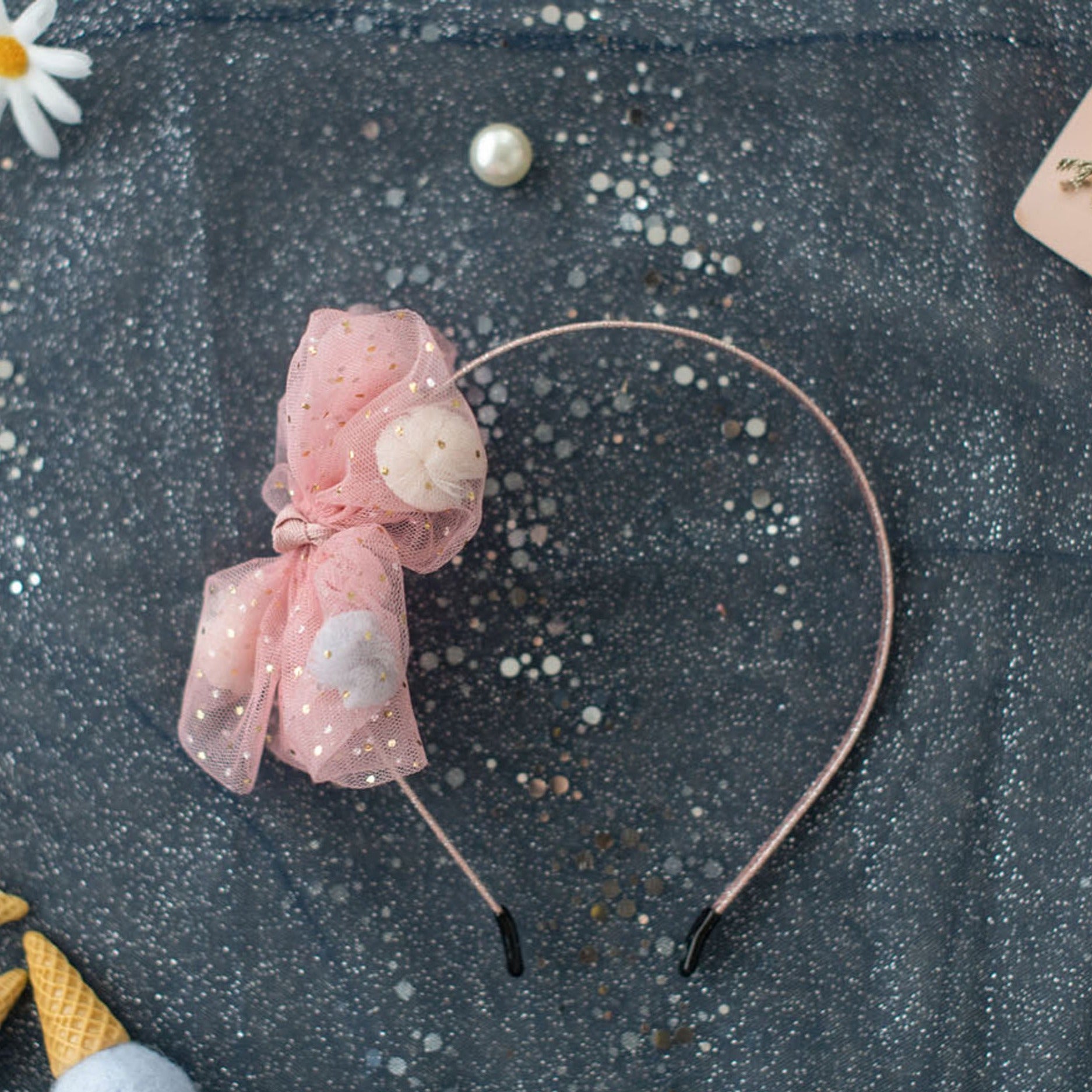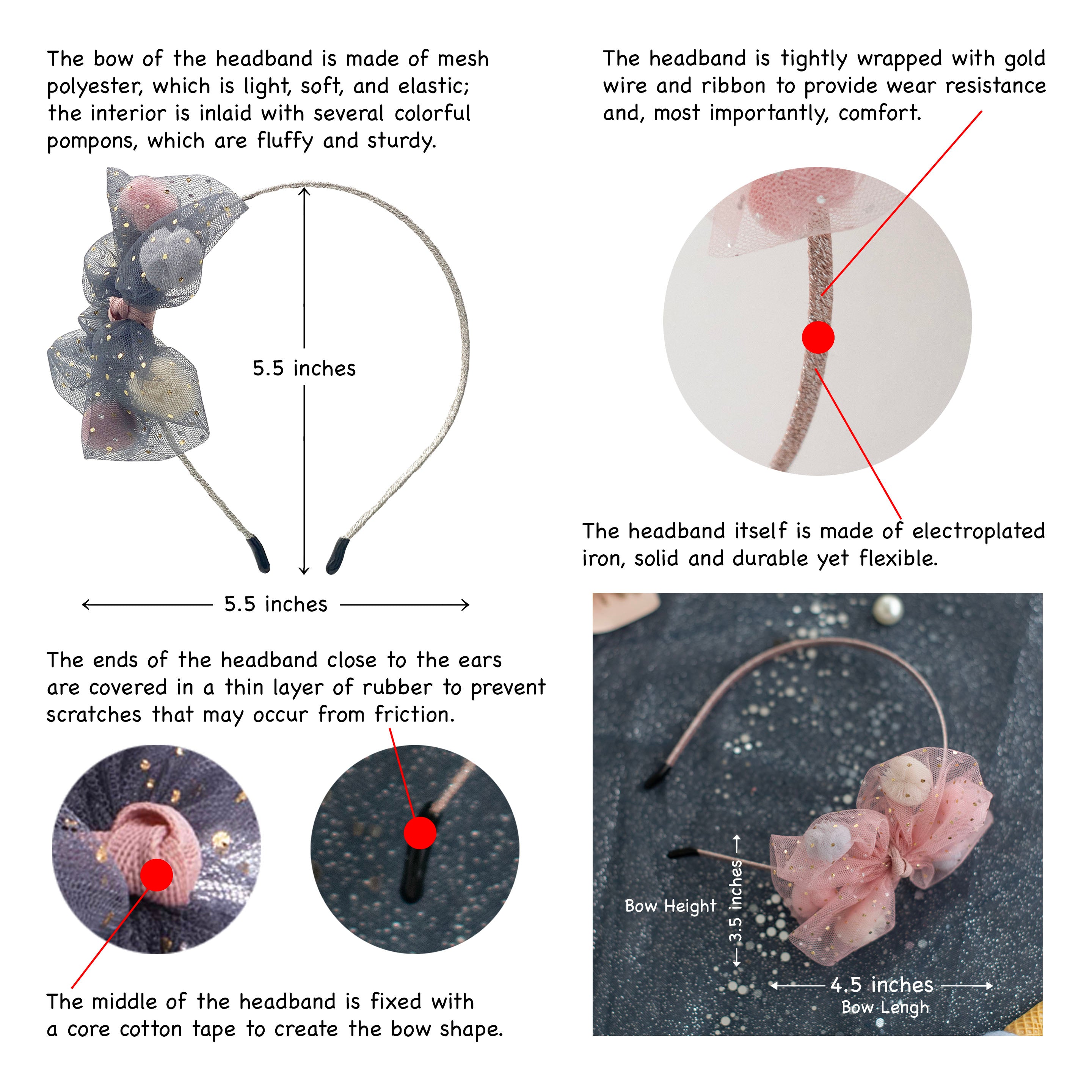 Summer Crystal Mesh Tulle Pompons Bow Headband 5.5x5.5 Inch
---
Share
The overall style of this headband expresses the charm, elegance, and playfulness of the individual through soft pastel colors. The lace is dotted with wave-like sequins and embedded with multiple colorful pompons, accentuating the playfulness of the headband. The ends of the headband are wrapped with gold ribbon, bringing a pop of boldness to the overall style. A flexible wire ring is placed inside the headband, allow for you to adjust the curvature to your liking. Whether it's worn with a ponytail or shawl hair, the exquisite details of this headband provide suitability for various occasions.

The bow of the headband is made of mesh polyester, which is light, soft, and elastic; the interior is inlaid with several colorful pompons, which are fluffy and sturdy.

The middle of the headband is fixed with a core cotton tape to create the bow shape; the headband itself is made of electroplated iron, solid and durable yet flexible.

The headband is tightly wrapped with gold wire and ribbon to provide wear resistance and, most importantly, comfort; the ends of the headband close to the ears are covered in a thin layer of rubber to prevent scratches that may occur from friction.
For girls over three years old and women, long or short hair. For various occasions, birthdays, holidays, parties, cosplay, easter, Halloween, daily and more. It also serves as an excellent gift for multiple occasions.
Super cute!
These were super cute & I love that in came in 2 because i have 2 girls & these are super cute
Super cute!
Bought for my 6 year old and she LOVES them. They are thicker than average and keep her hair back without slipping off her head constantly. Both arrived well packaged and are well made.
Cute and comfortable kids headbands
This set of two headbands are really cute. They are perfectly sized for kids and the band itself is plastic with teeth, so it stays securely in my daughter's hair. Both have the same rainbow fabric covering the band but the tulle bow is slightly different in color. The bow is set to the side and since they are rainbow they basically match every outfit. My daughter said she was comfortable wearing them all day long. The only issue I came across was that one bow was slightly loose when I took it out of the packaging, but a little bit of hot glue fixed it with no issues. Overall, these are cute and comfortable and great for my daughter.