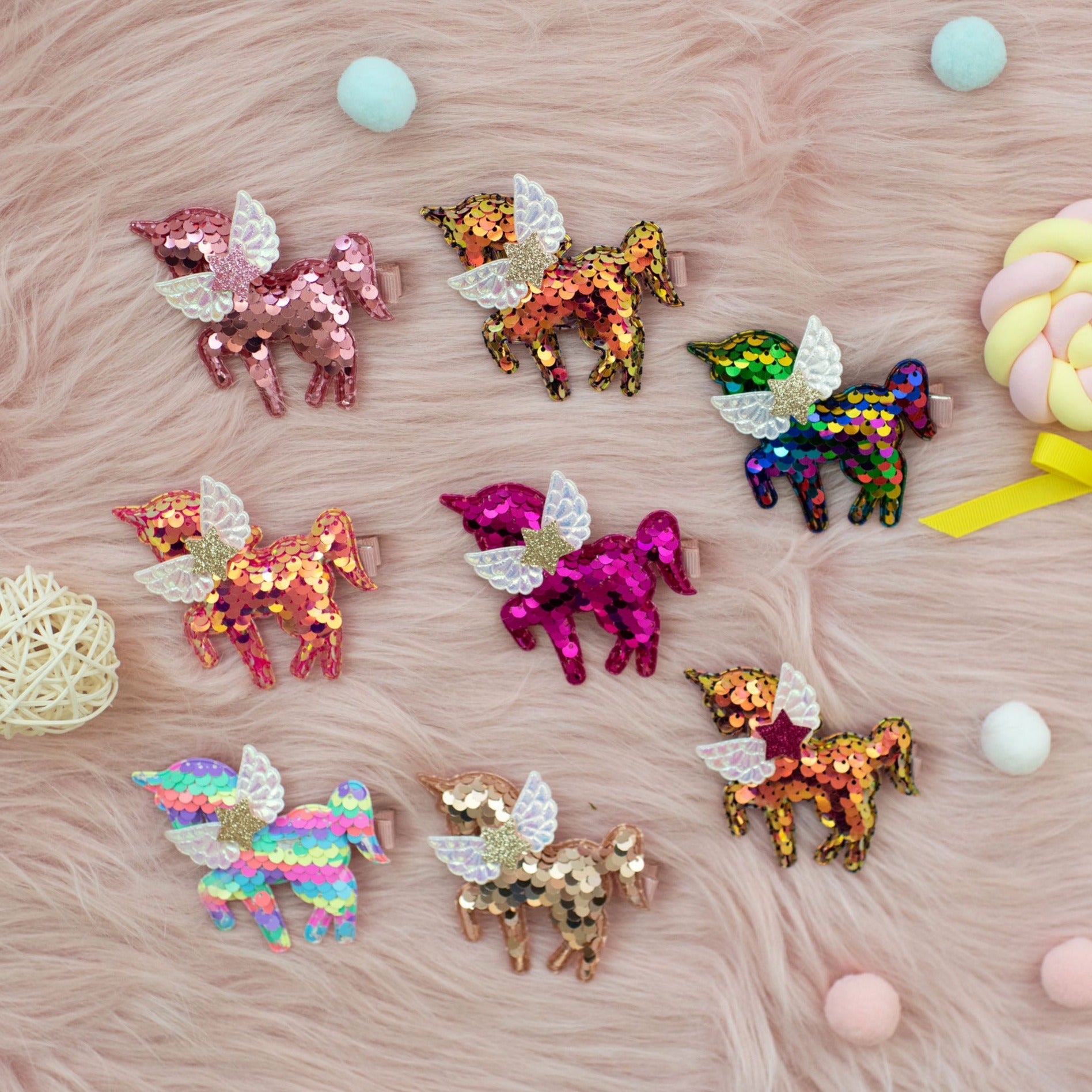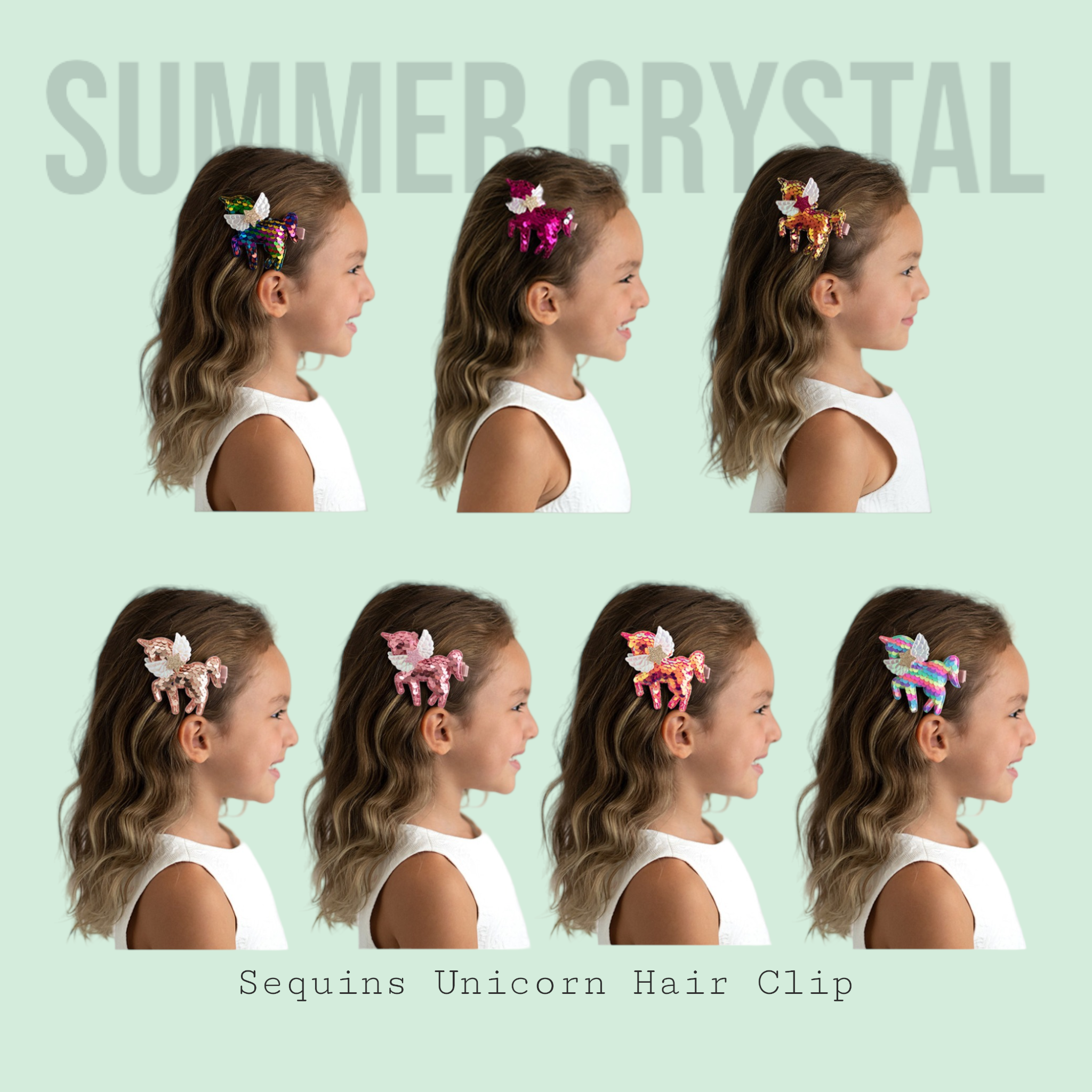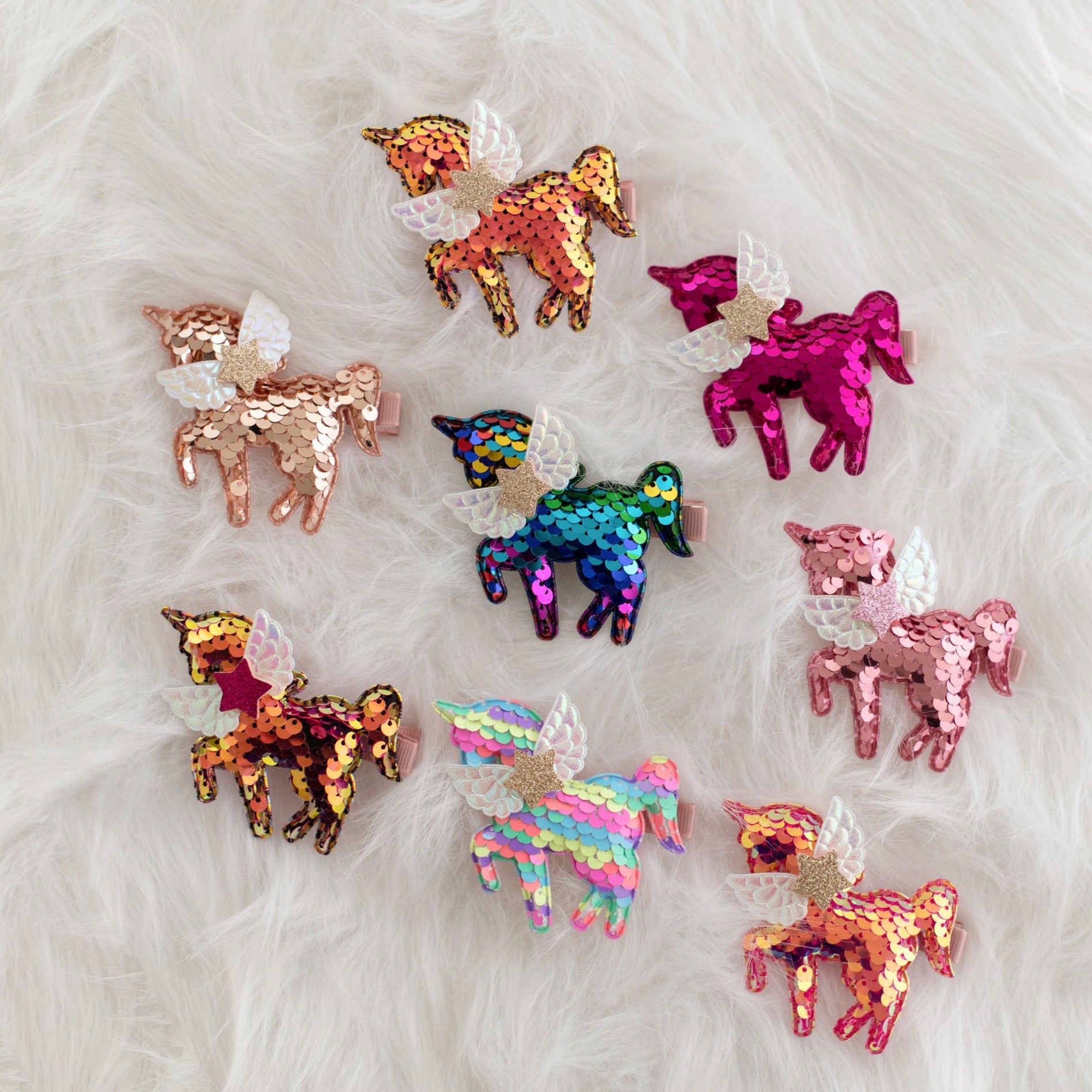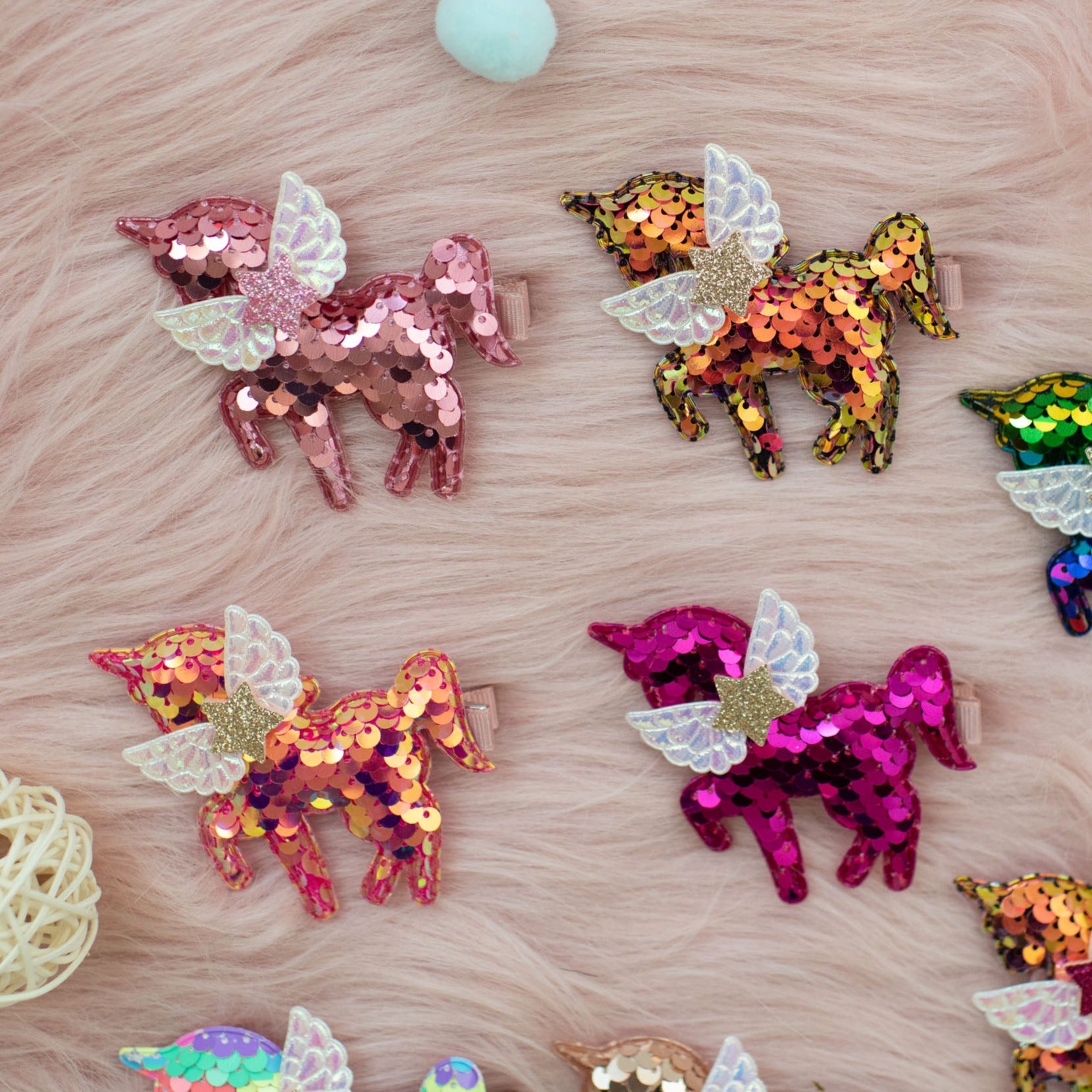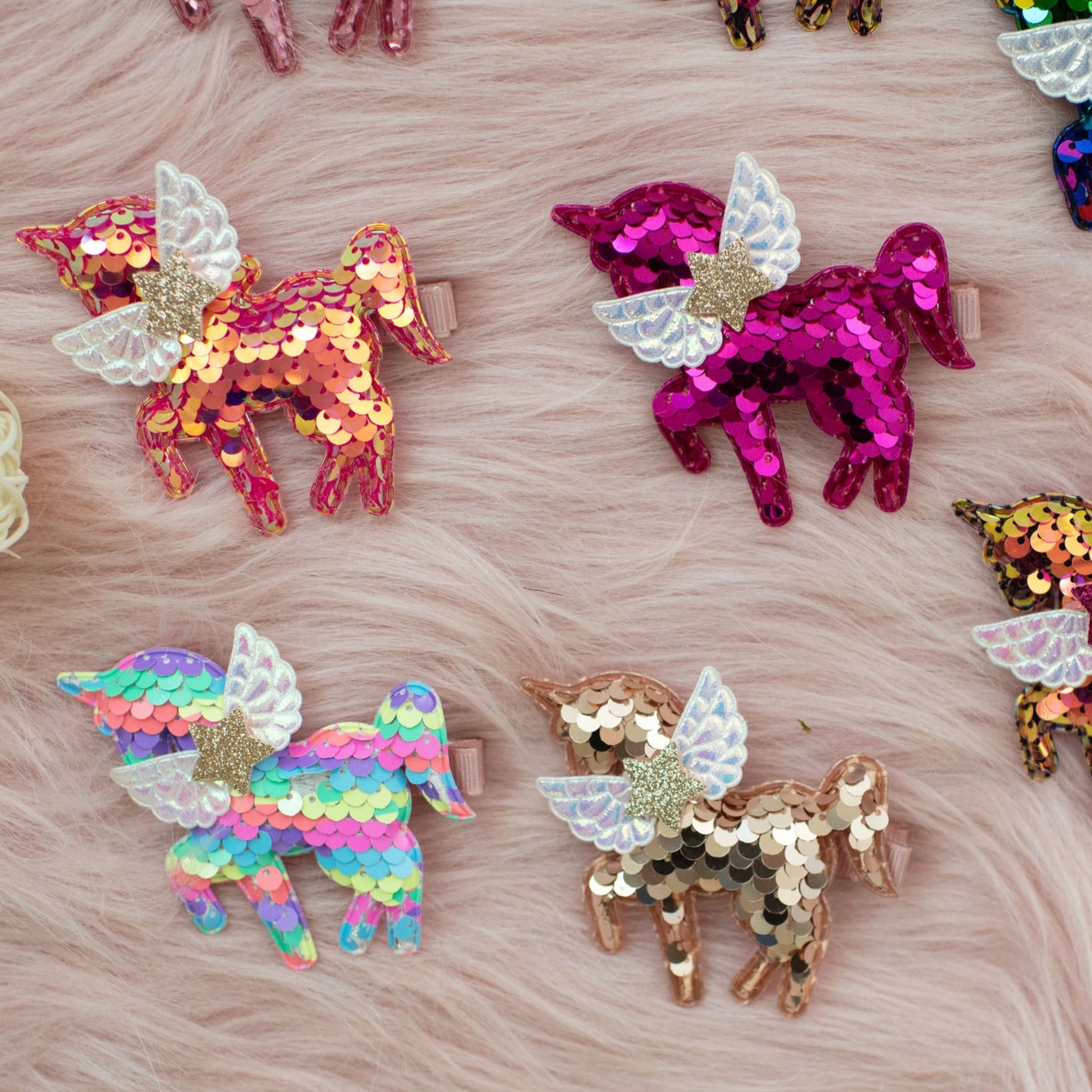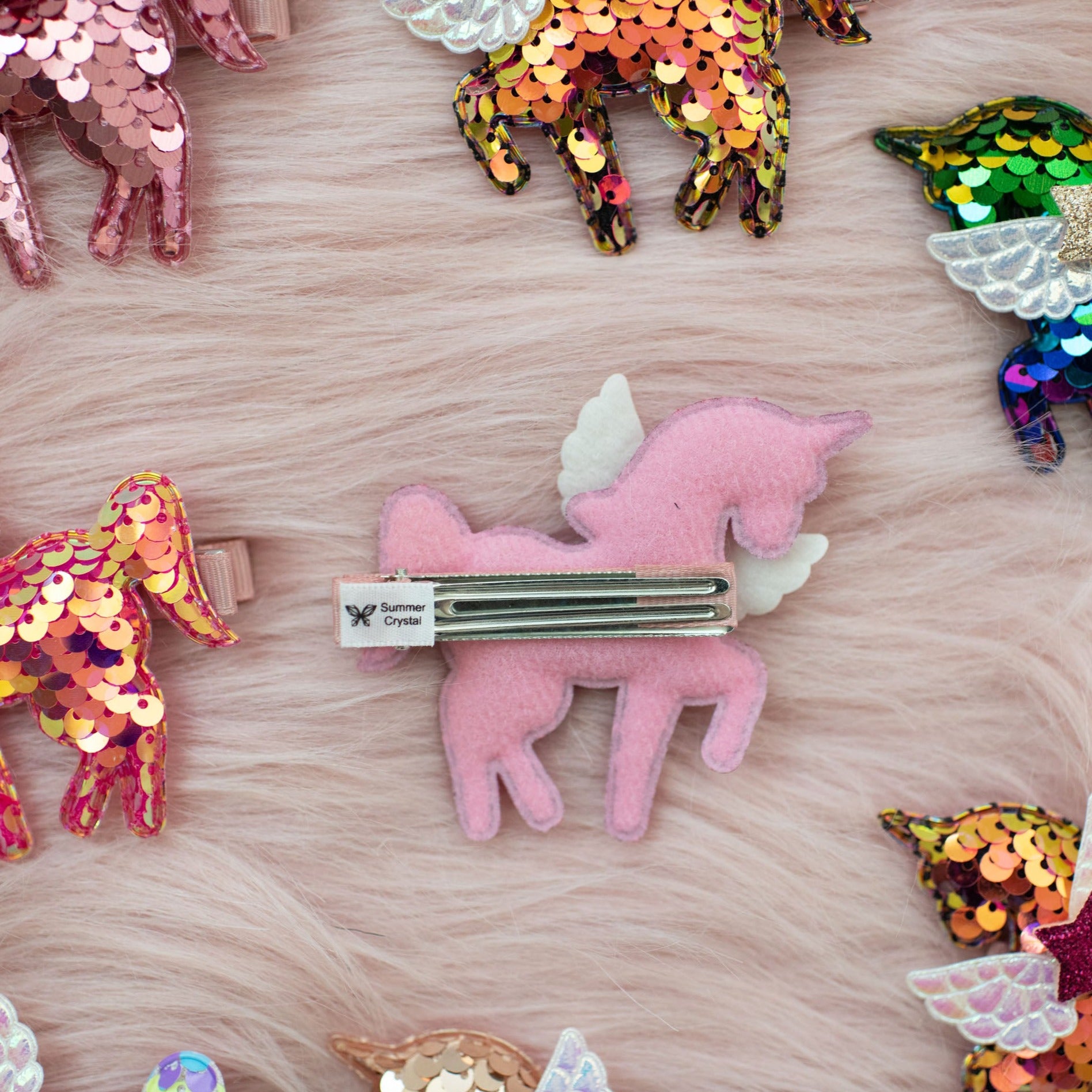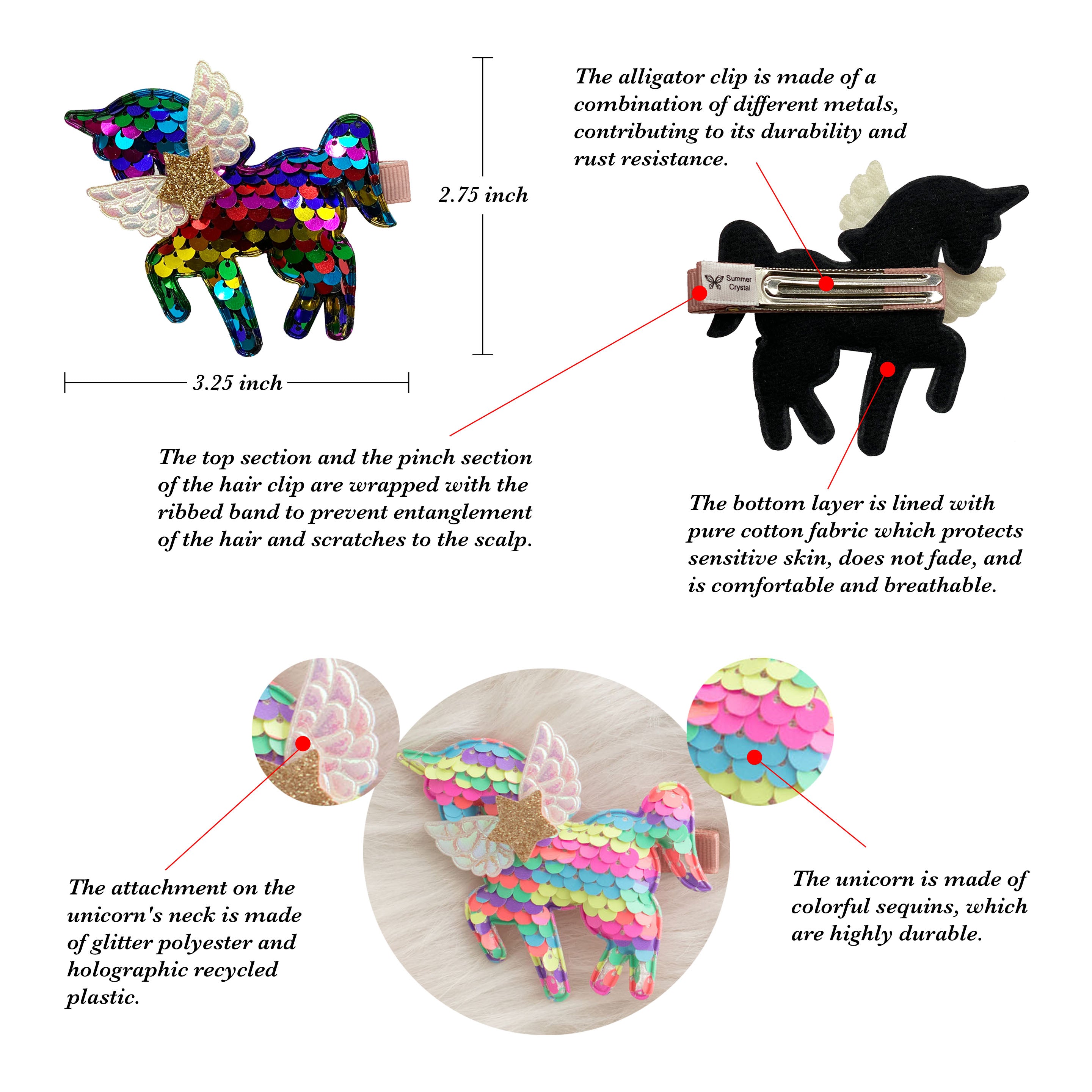 Summer Crystal Sequins Unicorn Alligator Hair Clip 2.75 x 3.25 Inch
---
Share
Whether used as a ponytail clip or worn with the hair down, this clip adds a unique pop of color to the hair. This clip is bright and beautiful; at different angles, the sequin unicorn gradually changes into different colors under the sunlight, reflecting light beautifully. The attachment on the unicorn's neck features a glitter star with holographic wings. This clip is a definite attention grabber, bringing playfulness and individuality.

The unicorn is made of colorful sequins, which are highly durable; the attachment on the unicorn's neck is made of glitter polyester and holographic recycled plastic.

The top section and the pinch section of the hair clip are wrapped with the ribbed band to prevent entanglement of the hair and scratches to the scalp; the bottom layer is lined with pure cotton fabric which protects sensitive skin, does not fade, and is comfortable and breathable.

The alligator clip is made of a combination of different metals, contributing to its durability and rust resistance; these clips can clamp the hair very firmly in place for an extended period without slippage.
For girls over three years old and women, long or short hair. For various occasions, birthdays, holidays, parties, cosplay, easter, Halloween, daily and more. It also serves as an excellent gift for multiple occasions.
They are beautiful and comfortable
They are beautiful.
These clips are made of sequins, they are very well made and the size is adequate, although it would be more recommended for girls of 3 years and older as the description says.
I ordered this set for myself and considering the size of my head I think they would be a bit big for babies.
The tweezers have a good grip and could hold fine or thick hair, whether it's thick or thin.
Every detail is well taken care of and the colors are very fun. With the colorful unicorn it can be done in many combinations. I love it!
Sparkly
These are sparkly and pretty, with a good sized alligator clip underneath. The sequins are on well, though a few does come off with handling. The two clips are individually wrapped as well so you can give it to 2 separate kids. They are pretty big, so definitely a statement clip.
Gorgeous
Beautiful hair barrettes. Ordered for my granddaughters 3 and 6. They loved them and they are made with high quality!
unique
These hair clips are pretty unique - I haven't seen any like them and a few girls had asked our daughter where she got them from :) They are definitely eye catching with all of those colorful sequins!
The clips themselves are very strong and hold the hair well, but because of their size I would probably recommend them for ages 4 and up.
Cute! Perfect for 5 year old
These are so cute! Really nice quality and a unique take on hair clips- my daughter loves the unique unicorns! We love these. They are good quality and fun to wear, perfect for my 5 year old.
3 people found this helpful