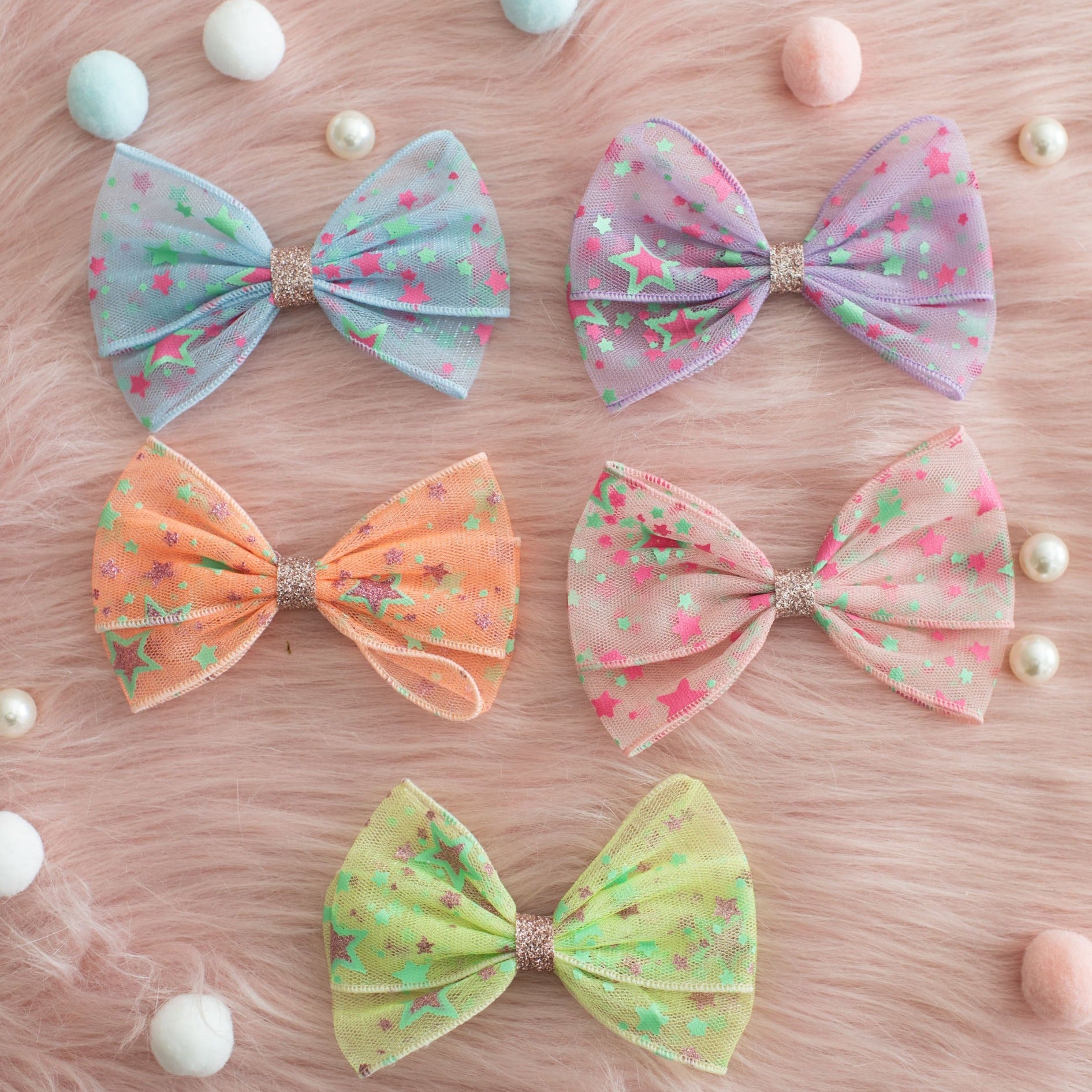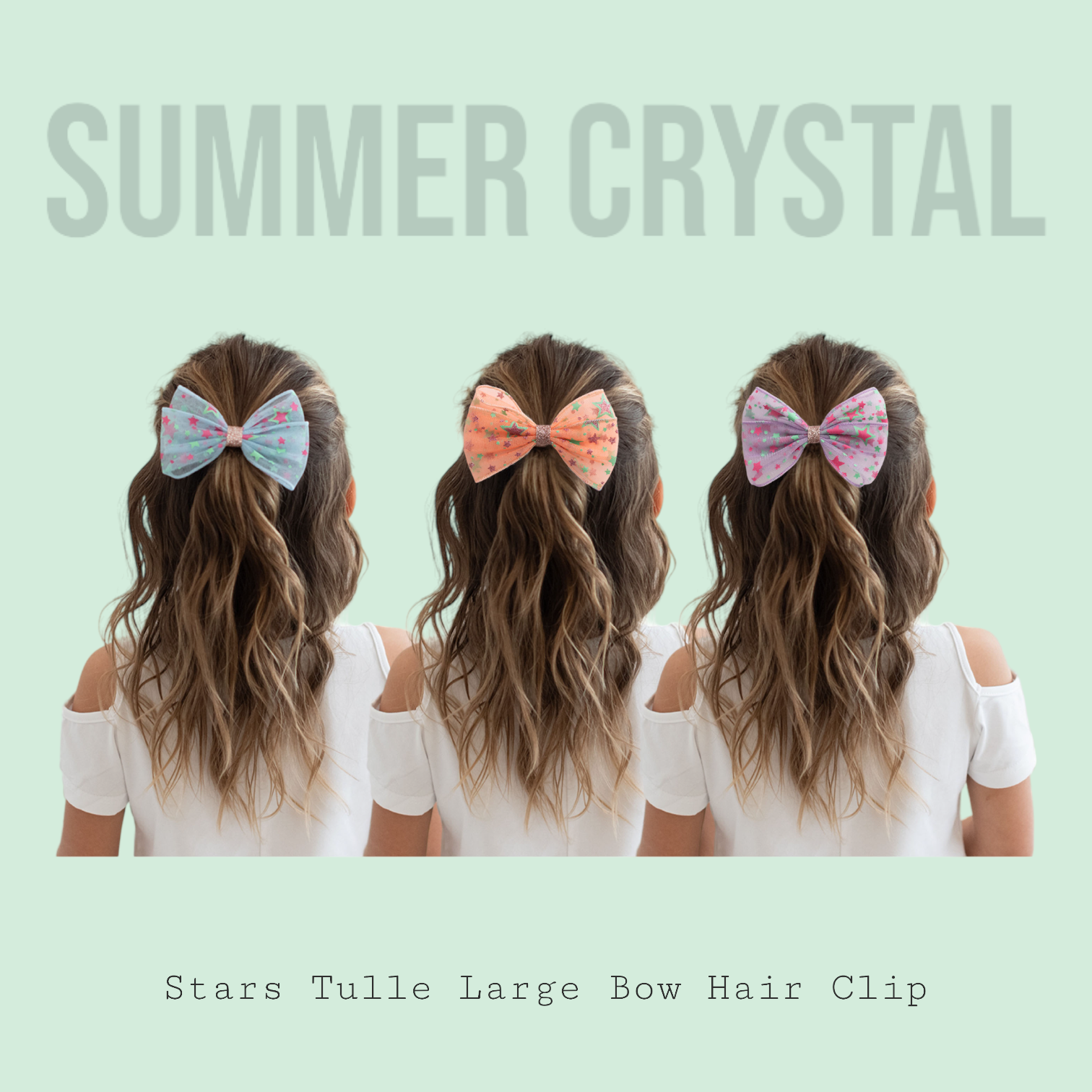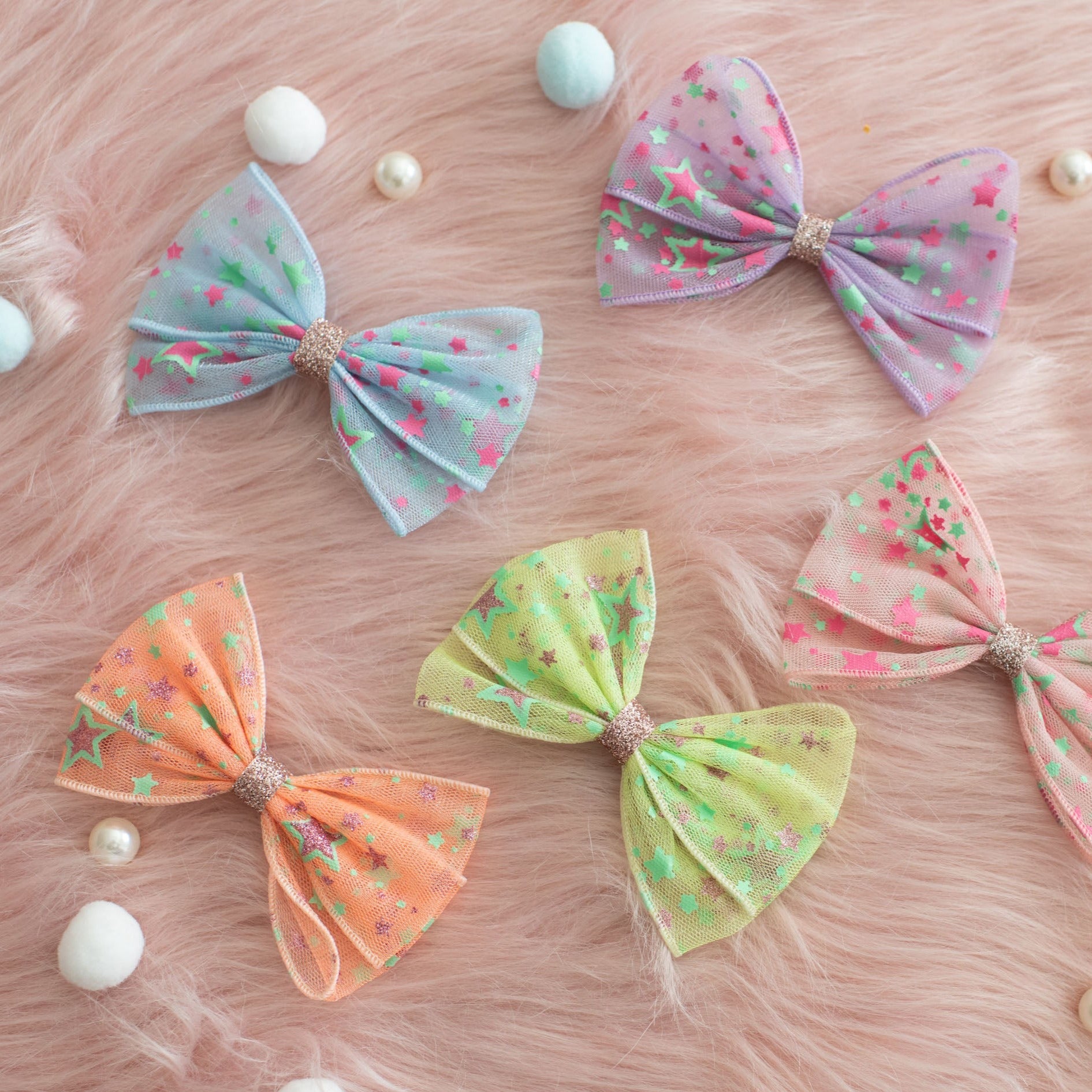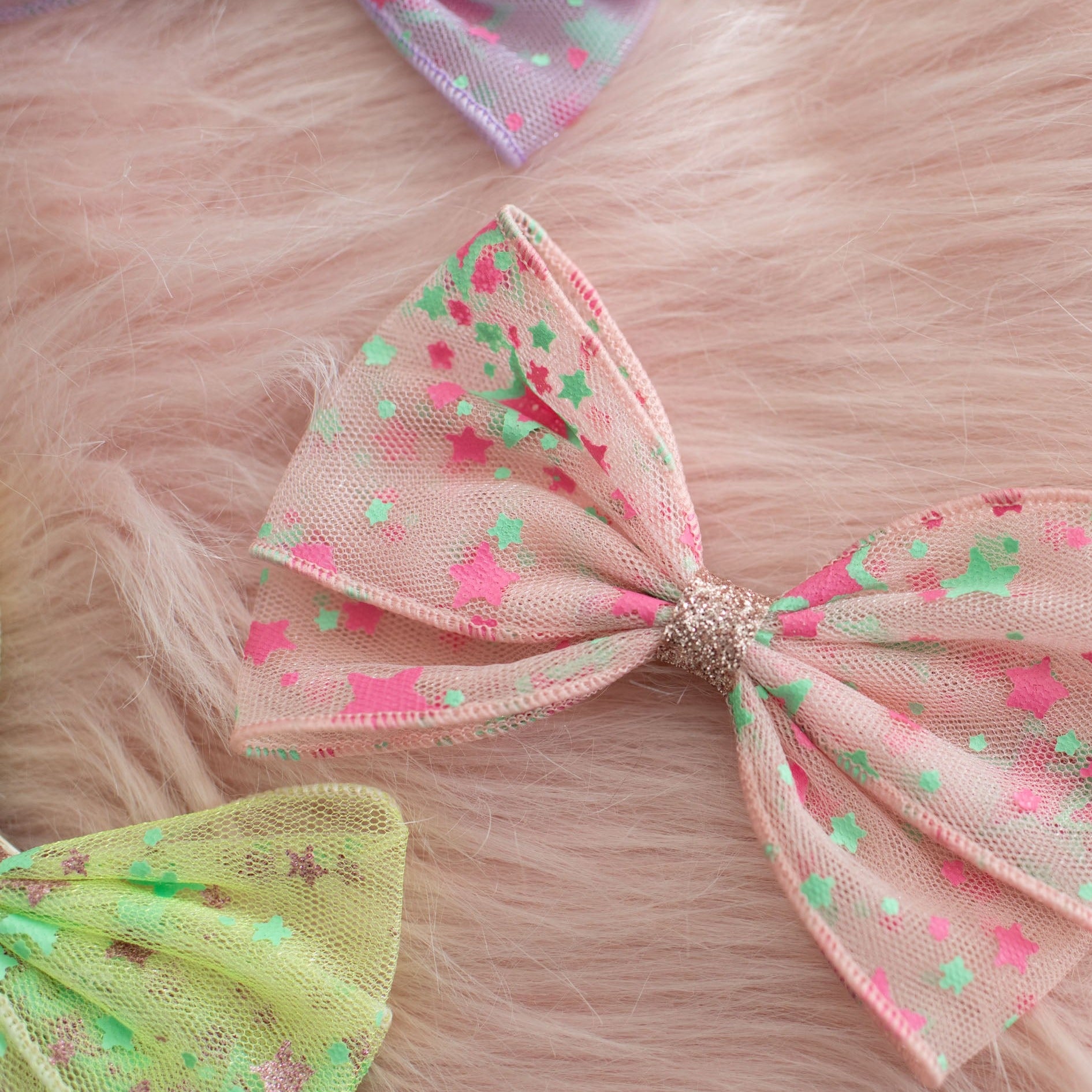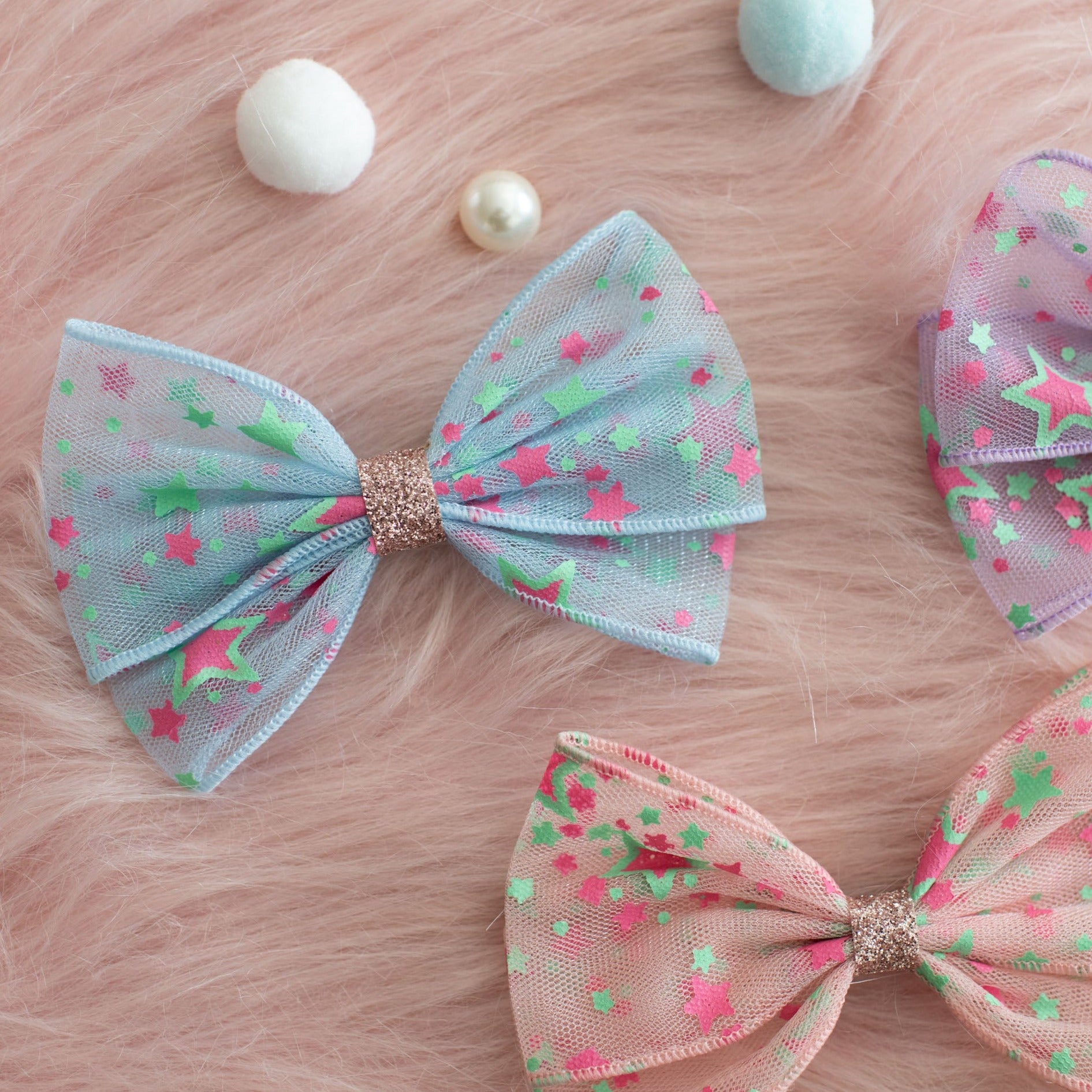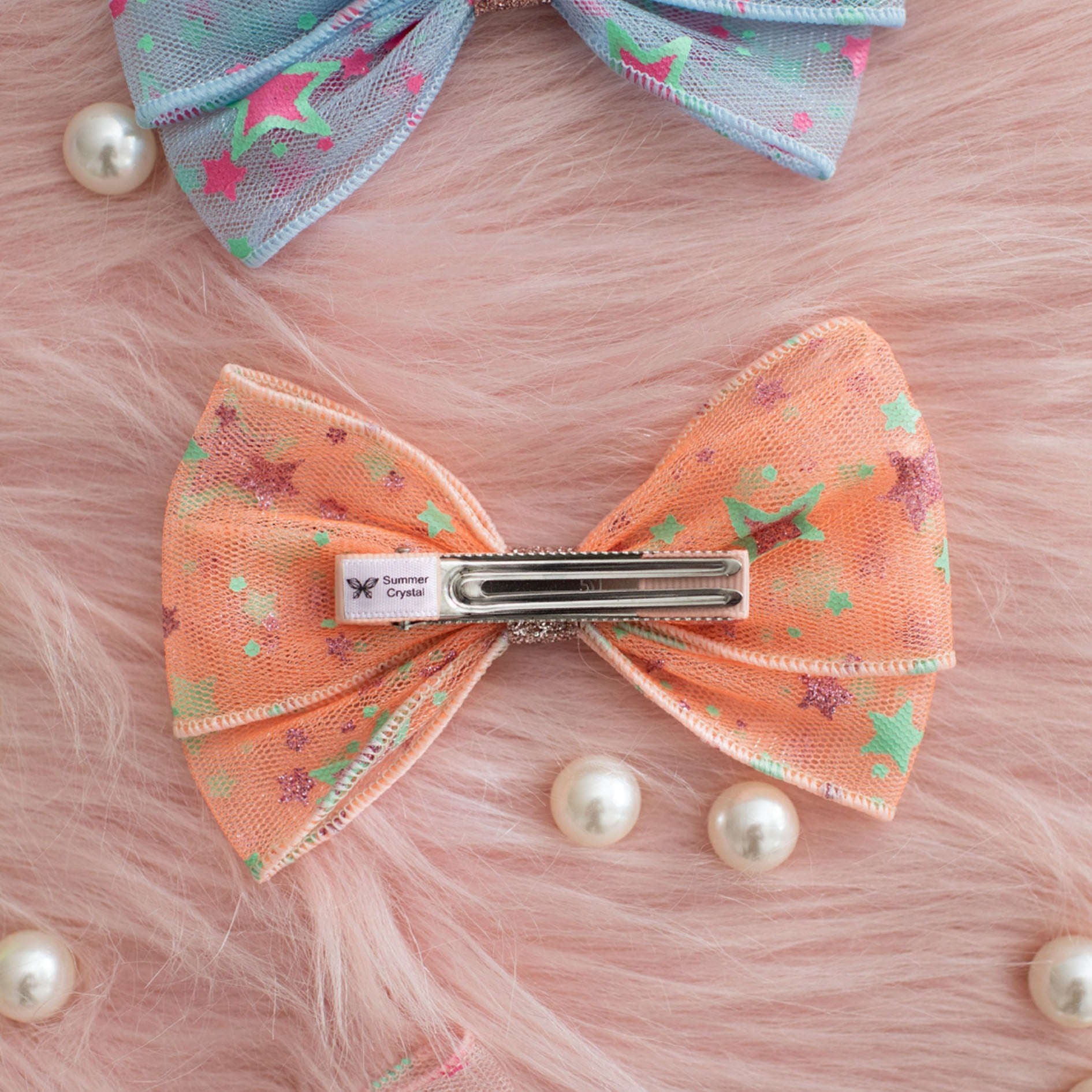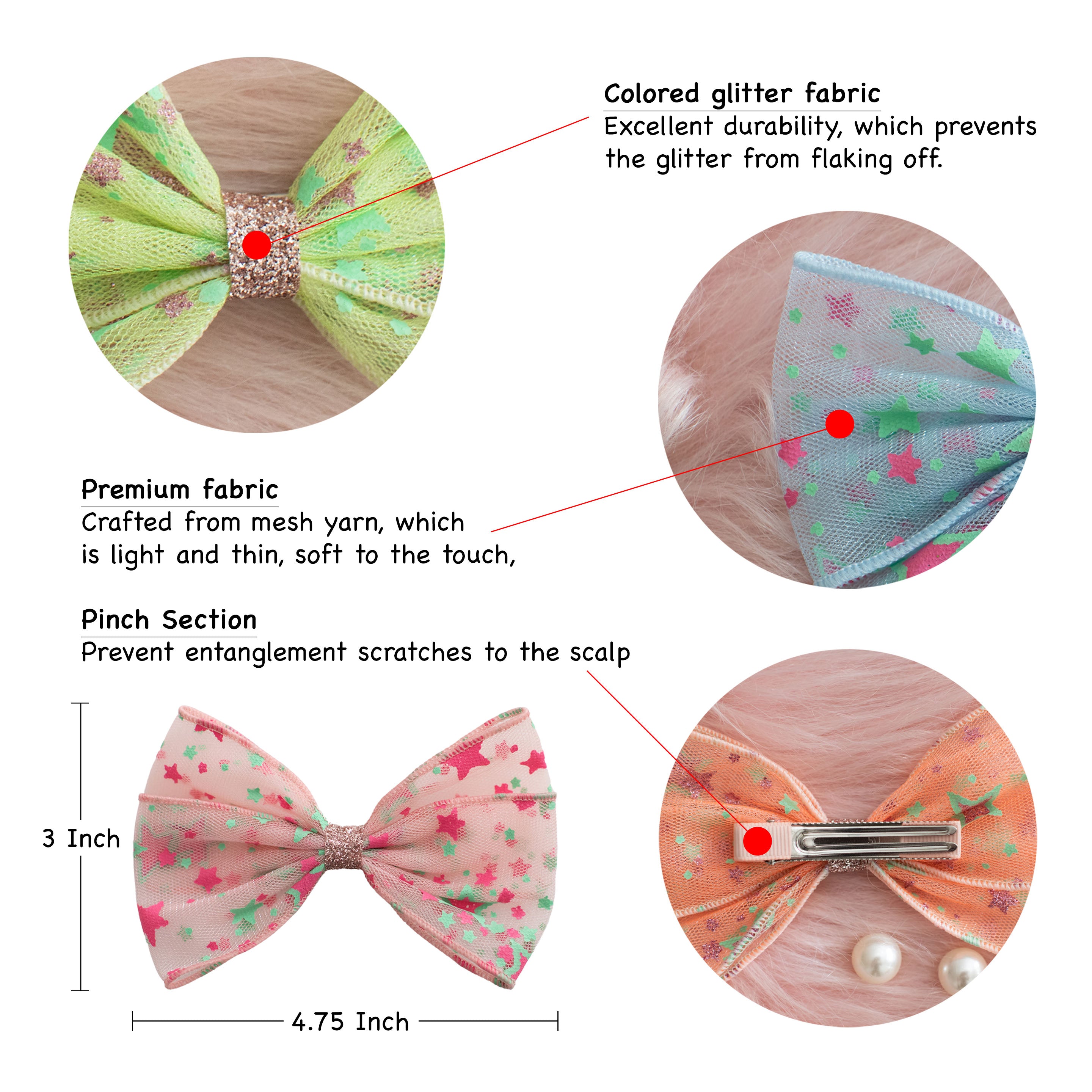 Summer Crystal Stars Tulle Large Bow Alligator Hair Clip 3 x 4.75 Inch
---
Share
These dreamy, multicolored starry bow hair clips present a sweet, lovely, simple, playful personality through bold, eye-catching colors. Compared to traditional cotton and silk materials, our double-layer mesh is more flexible and light, paired with colorful stars, giving a gorgeous and dazzling experience. The middle of the clips are wrapped and fixed with glitter fabrics, and the double-layered butterfly bow has a unique shape that pops out at you. The hair clip can be paired with multiple hairstyles, such as ponytails or half ponytails. No matter how thin or thick your hair is, this clip can handle it all while providing comfort and convenience. Most importantly, this clip is perfect for all occasions, as its playfulness makes an impression on everyone that lands an eye on it.

The colorful star mesh bow is crafted from mesh yarn, which is light and thin, soft to the touch, premium fabric, and holds its shape very well. The colored stars are first printed and then dyed on it, ensuring long-lasting colors and durability.

The top fabric is carefully cut with laser precision, and the edge of the mesh is lined with fine cotton thread. The material of the middle band is a colored glitter fabric with excellent durability, which prevents the glitter from flaking off.

The Alligator Clip can fix a small portion of hair firmly in place and is made of durable metal material, which does not corrode or rust easily. The opening and pinch section of the clip is wrapped with striped fabric, presenting hair entanglement and unwanted scratches.
Suitable for girls aged three and above, as well as women with both long and short hair. Ideal for a wide range of occasions including birthdays, holidays, parties, cosplay events, Easter, Halloween, daily wear, and more. This versatile accessory also makes for a thoughtful gift across multiple occasions.
very pretty
Light and soft look prefect for Sunday Church! My daughter loves them. Great as a gift for any little girl in your life as a birthday present.
Super cute!
I got these for my 4 year old daughter and we both LOVE them!
They are such cute hair bows. They are bigger than I expected, I thought they were going to be mini but they are the size of a normal standard hair bow. The clips are a bit small to hold hair back independently so these are better suited for accessorizing a hair style rather than keeping hair in place. That's perfectly fine with me as my daughter loves to use hair bows to style her ponytails.
They are well made and nice quality. I find them to be a value for the price